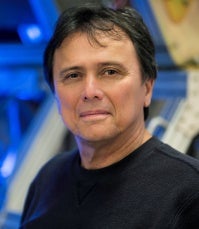 Franklin Chang Díaz
CEO of the Ad Astra Rocket Company, Retired Astronaut
Wednesday, Feb. 16 | 4:30 P.M. | Zoom Webinar - Register Now
Join Mark Sirangelo as he welcomes Dr. Franklin Chang Diaz, a veteran of seven space missions and now Chairman and CEO of the Ad Astra Rocket Company, for a very special discussion of his remarkable personal journey. 
Franklin's story is one of insight and determination on the part of a young man born in San José, Costa Rica who decided at the age of seven that he needed to come to the United States to become an Astronaut.  At 18, speaking only Spanish and with $50 in his pocket, he traveled to the US for the first time.  A year later he'd learned English and earned a scholarship to study Mechanical Engineering at University of Connecticut before going on to MIT for a doctorate in Plasma Physics and Controlled Fusion. 
Franklin became a U.S. citizen and then NASA's first Latin American astronaut in 1980.  In 1986, he took his first trip to space aboard the shuttle Columbia and went on to tie the world record for missions flown - seven shuttle missions and over 1,600 hours in all including 19 hours of space walks to help build the International Space Station.
After leaving NASA, Franklin started the Ad Astra Rocket Company.  Ad Astra is a leading spaceflight technology company dedicated to the development of advanced plasma rocket propulsion. The company is developing the Variable Specific Impulse Magnetoplasma Rocket (VASIMR®) engine, other space propulsion technologies and hydrogen and renewable energy solutions.
Dr. Chang Díaz is a four-time recipient of NASA's Distinguished Service Medal and was inducted in the US Astronaut Hall of Fame in 2012. He holds six US Patents including four key patents on the technology of the VASIMR® engine and serves as an Adjunct Professor of Physics at Rice University and the University of Houston.
Mark N. Sirangelo created and hosts the CU Future Insight Seminar Series as CU's Entrepreneur-Scholar in Residence. He is the recent Chairman of the U.S. Dept. of Defense's Defense Innovation Board and the DoD's Space Advisory Committee.  Previously he was Special Assistant to the NASA Administrator helping to develop NASA's return to the Moon.  Mark was the founding executive and head of Sierra Nevada Corporation's Space Systems which has participated in over 300 space & aerospace missions. He has served as the Chief Innovation Officer of Colorado and is the state's appointee to the Colorado Energy Research Collaboratory.