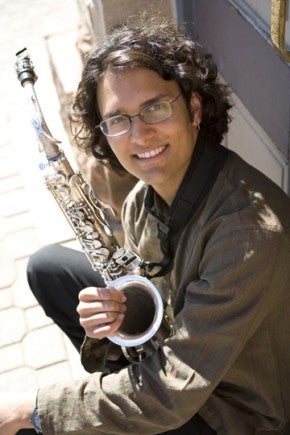 The Aakash Mittal Quartet, led by Aakash Mittal (BM 2007, saxophone), received the ASCAP/Chamber Music America award for Adventurous Programming of Contemporary Music for jazz ensemble in January in New York. The group performs its members' original works and draws heavily on the improvisational vocabulary and compositional aspects of the North Indian classical raga tradition. Mittal's "Videsh Suite" takes the listener on a journey to India through the use of post-bop, raga music, serialism and electronic samples.
Established jointly by Chamber Music America and ASCAP, the annual awards recognize U.S.-based professional ensembles and presenters for distinctive programming of new music composed in the past 25 years. The recipients were chosen by an independent panel of judges, who evaluated the applicants on the basis their programming of recent works and innovations in attracting audiences to new music performances.
"This year's award recipients represent some of the most exciting contemporary music programming in the country," said Chamber Music America's CEO, Margaret M. Lioi.
"Judging from the number of excellent applications that we received, new music is flourishing in the chamber music community. We are pleased to recognize these outstanding ensembles and presenters for their accomplishments."