Since graduating with her PhD in technology, media and society through the ATLAS Institute in 2013, Heather Underwood has worn a lot of hats, from professor to nonprofit co-founder. 
Today, she is CEO of EvoEndo, a company that specializes in endoscopes small enough to be used with unsedated patients.
Underwood sees EvoEndo as a result of successful collaborations, "where everyone comes to the table with an open mind, when people are curious and respectful of other people's unique experiences."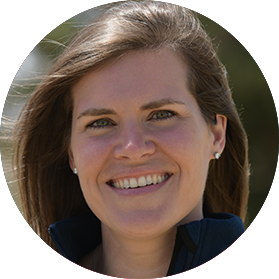 Heather Underwood
By crossing disciplines and experiences, Underwood said, people are able to get the best solution to a problem — one that is deeply understood by all stakeholders.
In the case of EvoEndo, it was by working closely with pediatric gastroenterologist Dr. Joel Friedlander at Children's Hospital of Colorado that Underwood came to understand the real need for unsedated endoscopies for children and adults. Children have fragile intestinal walls, and general anesthesia can carry significant risks for both children and adults.
Before she joined EvoEndo, Underwood was an assistant professor in the clinical teaching track at CU Denver. There, she directed Inworks, an interdisciplinary and collaborative space for human-centered design, innovation and prototyping in partnership with CU Anschutz Medical Campus. 
"I absolutely loved getting to work across all the departments. We had students from architecture, medicine and fine arts learning how to work together," Underwood said. 
Underwood traces her passion for interdisciplinary medical solutions to her experiences as an ATLAS Institute PhD student. 
"I was writing software for midwives and nurses in Kenya and lived in Nairobi for a while. We completed studies showing the success of the platform that we built, and that was when I really fell in love with health care," she said. Underwood said she completed hundreds of interviews with midwives, physicians and administrative staff to understand if the technology being built was really the right solution.
"Even if you do think that you have a good solution, you have to take those extra steps to really validate the need," she said. "You can't work in a silo — you just can't." 
Underwood encourages others to keep a beginner's mind and to understand that collaboration and conflict are two sides of the same coin. 
"Rejoice in successful collaboration and learn skills to effectively resolve conflicts," she said. "It's inevitable, because different people have different approaches. Take it as an opportunity to learn and be curious. It's an opportunity for personal growth." 
Underwood regularly shares her lessons on entrepreneurship and collaborative problem-solving with current ATLAS graduate students. 
"Getting to interact with a group of students gives me energy for days," said Underwood, who was awarded an Alumni Engagement Medal in 2022. "I love it very, very much, which is why I've stayed involved. The program at ATLAS is just so unique and beneficial for students." 
Ruscha Cohen and Jill Dupré, co-directors of ATLAS's graduate programs, said they appreciate Underwood's commitment to making the world a better place, adding that the graduate students who interact with Underwood admire her greatly.
"She's seen as a model of what is possible," Cohen said.