Areas of research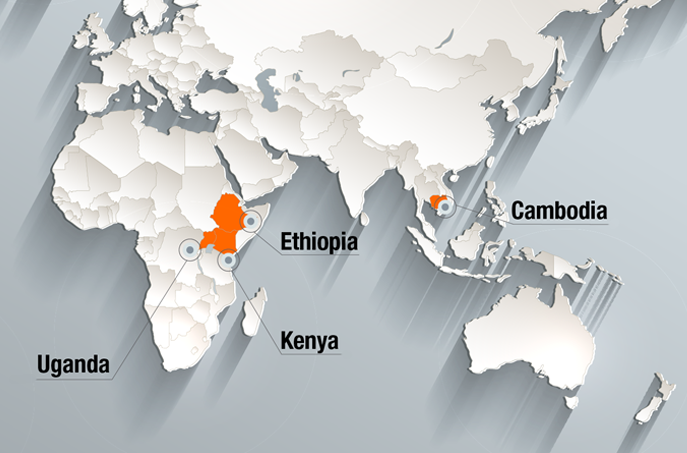 Map graphic 
World map indicating Uganda, Kenya, Ethiopia and Cambodia.
Top banner image: Water containers are filled from water spigots in rural Kenya.
Key research elements
The Sustainable WASH Systems Learning Partnership led by CU Boulder has published an end-of-cycle report detailing work completed through the $15 million project with U.S. Agency for International Development (USAID).
Over the last five years, the learning partnership coordinated the efforts of seven organizations in sub-Saharan Africa and southeast Asia seeking to develop, test and document sustainable approaches to local water, sanitation and hygiene (WASH) to support initial infrastructure investments.
The project was unique in that it partnered with local organizations to implement and compare activities across multiple countries and contexts — offering a more holistic picture of what works and what doesn't from a systems level. The final report summarizes the work and shows how a systems-level understanding and engagement approach can help providers navigate challenges to service sustainability. It also shows how incentivizing preventive maintenance and fast repair times can improve rural water services and describes how collective action platforms can bring about policy change.
The Sustainable WASH Systems Learning Partnership was organized and managed through the Mortenson Center in Global Engineering beginning in 2016. Professors Amy Javernick-Will and Karl Linden, both associate directors of the Mortenson Center in Global Engineering and co-principal investigators for the project, said this final report serves as a cap to an incredibly productive and valuable research project.
Javernick-Will said sustainable services remain a daunting challenge in the WASH sector because governments, service providers and development organizations have traditionally focused on access and service expansion in WASH systems with less emphasis on sustaining existing services and infrastructure. She pointed to failed water hand pumps in Africa, which represent a total lost investment of between $1.2 and $1.5 billion over the last 20 years, as one example. The fact that more than half of all subsidized toilets are unused, misused or abandoned is another example.
"Gaps in service coverage remain significant and — meanwhile — implementation challenges are growing," she said. "Our approach and findings summarized in this report show that the best way to strengthen these crucial local systems is to instead meaningfully engage with stakeholders on the ground to collectively identify priorities and address common barriers like financing while also consistently reviewing, measuring and adapting the systems toward overall sustainability."
In all, the partnership has generated over 200 unique papers, materials and presentations over its life cycle, with five PhD, and two master's students, along with five undergraduate students, working on aspects of the project at CU Boulder alone. A few highlights noted in the report, which were achieved in collaboration with partners, include:
Data on water pump functionality is now available for the first time to government maintenance service providers in Afar, Ethiopia.
A comprehensive sanitation assessment spurred stakeholders to form a learning alliance and convince decision-makers to prioritize sanitation with other development activities in Debre Birhan, Ethiopia.
The project conducted 64 analyses to improve stakeholder understanding of WASH systems, showcasing shifting prioritization toward maintenance.
The development of master plans to coordinate investments and align efforts for domestic and institutional WASH services in five districts in Uganda and Ethiopia.
Approximately 500 people from over 40 countries attended the online close-out with presentations on shared findings.


Students, faculty and staff affiliated with the Mortenson Center in Global Engineering working on this project and related issues in Africa, Asia and beyond.
Strengthening interconnected systems
Javernick-Will said the project began with a theory of change that focused on understanding and strengthening local systems to better sustain WASH services. This theory recognized that sustaining outcomes depends on the contributions of multiple, interconnected actors from different areas and with different expertise or skills. With that in mind, the team at CU Boulder started their research with the premise that strengthening a local system means directly engaging with the people within it to understand the system and collectively identify needs and priorities.
The team eventually focused on four priorities to accomplish that goal: stakeholder understanding, network analysis, professionalized service models and collective action. Together, they resulted in work to identify collaboration gaps — such as disconnects between district-level stakeholders and user communities — and ways to professionalize maintenance models that proactively service, repair and replace hardware to deliver more reliable, guaranteed service. The full list of projects, approaches and activities for each priority is available online and will aid many future interdisciplinary and transdisciplinary research projects in the field.
Linden said the Mortenson Center was well positioned to lead this type of large-scale research for a variety of reasons.
"The depth of research expertise on our team in these subjects — coupled with long-standing connections to the international organizations that work on these problems every day — is a powerful combination to develop lasting solutions and approaches," he said. "This type of large-scale, ongoing research contributes to the overall body of knowledge in crucial global engineering areas like network analysis, professionalized service models and collective action. And we fully expect to keep working in these areas for years to come."
Partners on the project included IRC WASH, Whave, Tetra Tech, Linc, Environmental Incentives, WaterSHED, and the University of Oxford. The project's website contains links to over 200 knowledge products and presentations, and an annotated bibliography of resources.
---