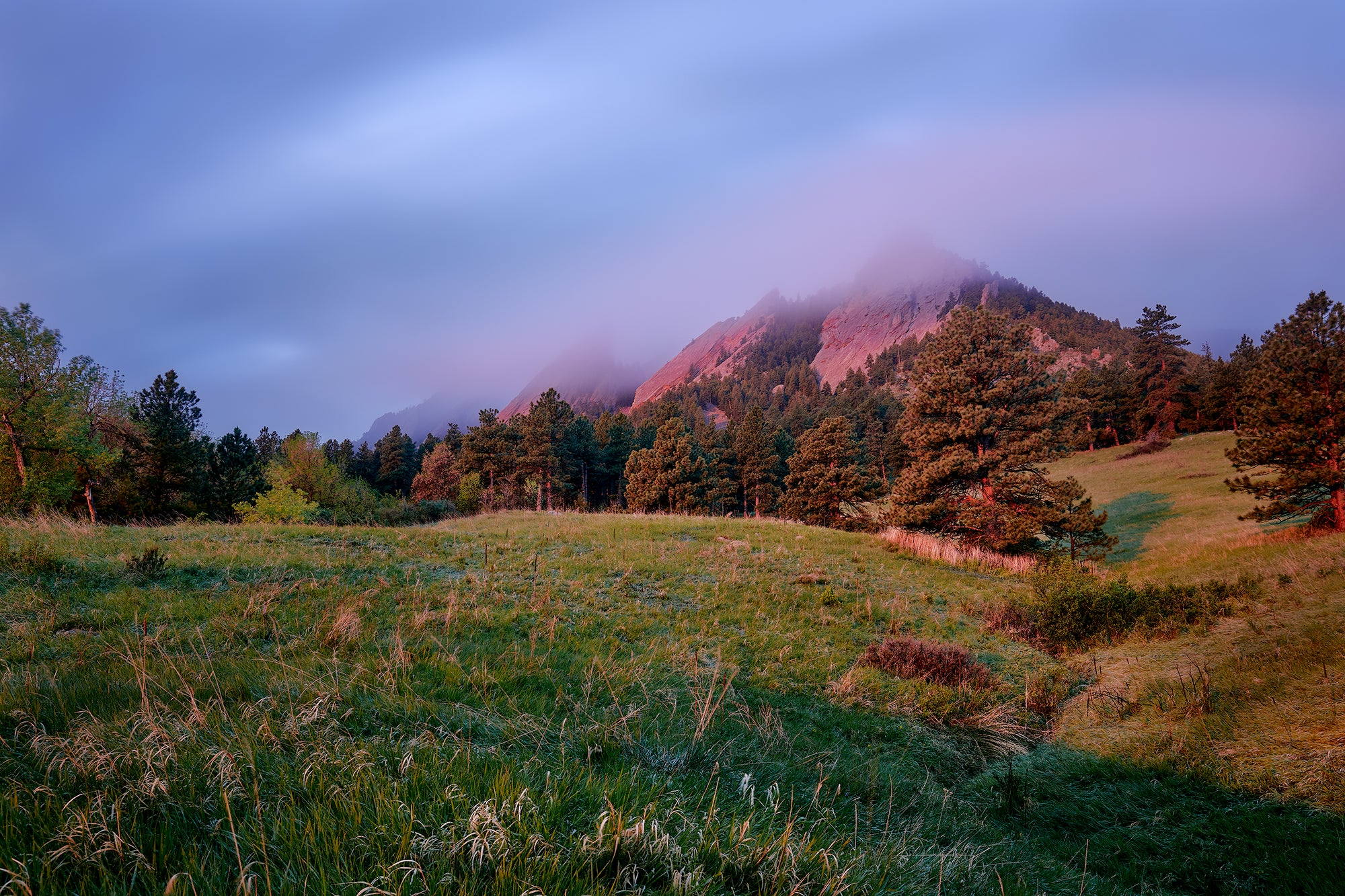 Kent Burkhardsmeier (ArchEngr'84) did something many intended but few have accomplished during the COVID-19 quarantine: He published a book.
Burkhardsmeier in the field. Photo by Claudia Johnstone. 
Stillness: Whispers from Nature, his first volume of original landscape photos and poems, came out this month.
The book started as a coping mechanism during the early days of the pandemic, as the avid traveler and outdoor enthusiast found himself cooped up in his Florida home.
"Things were just kind of grating at me, and I decided to get some of my old pictures," Burkhardsmeier said. "I just started kind of meditating with them. Next thing I know, themes and topics and words came out, and I just started jotting them down."
The result is a 96-page book that intertwines nature photography and poetry. It's the first in his planned "Whispers from Nature" collection, with the second in the series already well underway.        
Practice Makes Perfect
Burkhardsmeier's interest in photography began as a high school yearbook staffer. Years later, when his son was playing soccer, he got the chance to practice – a lot.
"There's the old adage that doing 10,000 anything gets you skilled," he said. "I must've done 20,000 soccer pictures."
He and his wife, Susan (Bus'85), and their two children also got the opportunity to travel internationally often, both for work and pleasure. During the family's time in places like Brazil, Argentina, Australia, London, Italy and Africa, Burkhardsmeier continued honing his skills. 
"As we were traveling, I started studying a lot more about the craft of photography, learning the theory behind the things that I kind of instinctively knew," he said.
When his career landed him back in Florida, he decided to give himself two years to make a go of a full-time career in photography.
That was five years ago. Burkhardsmeier has since been featured in multiple photography publications and exhibitions – including a joint gallery show in his hometown of Bismarck, North Dakota – and has received several international awards. He also sells prints and books through his website.  
Engineering + Business
Burkhardsmeier credits his engineering education with giving him the problem-solving and creative thinking skills to successfully pursue his passions, wherever they might take him.
"I think the days of knowing exactly what you're going to do when you're 18 or 19, going into college, and having that last your whole lifetime is very rare these days," he said.
Burkhardsmeier initially chose his major because he was torn between architecture and mechanical engineering. CU Boulder's architectural engineering program provided a good blend of the two, along with exposure to business coursework.  
After getting his MBA at CU Denver in 1990, Burkhardsmeier decided to take the leap into the growing world of computer information systems. He went to work at EDS, a company later purchased by Hewlett-Packard, where Susan worked. He worked in various roles – including sales, client support and business development – for EDS for 14 years and later at Microsoft for more than 11 years. 
Creative Pursuits
During quarantine, learning how to self-publish became almost a new career in itself, Burkhardsmeier said. With a planned "big travel year" out the window, he threw himself into both the business and design aspects of his book.
"I remember reading something early on that said, 'You can take the time to grow or you can take the time to wallow,'" he said. "Being self-employed and self-driven, I thought, 'Let's just find a way to take time to grow.'"
Once travel becomes feasible again, Burkhardsmeier looks forward to getting back on the road to capture new images. He's hoping to reschedule a trip to Spain with a photography group he's traveled with before. He also has an idea for a trip in the U.K., following in the footsteps of one of his favorite painters from a photographic perspective.   
But he grateful that the pandemic gave him an opportunity to continue learning new things and finding new creative outlets.
"Bringing together the left and right sides of your brain and utilizing all of your capacity is critical," he said. "You can't just get stuck on one side. You can tap into and foster the areas that maybe have been dormant or are less developed or less utilized."