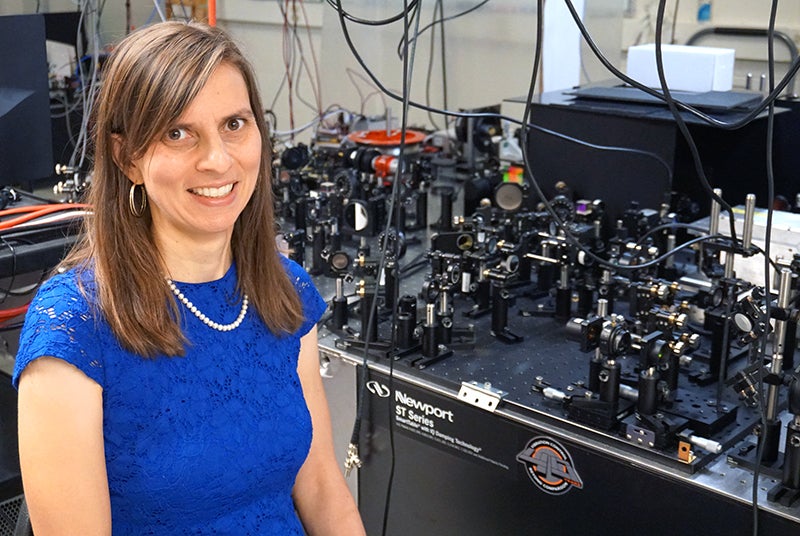 CU Boulder Electrical, Computer and Energy Engineering Associate Professor Juliet Gopinath is the principal investigator for a new chip-scale quantum project funded by the NSF. 
Learn about the CUbit Quantum Initiative at CU Boulder
Read about CU's history as a national leader in quantum
The CU Boulder College of Engineering and Applied Science is leading a new multi-university and multi-disciplinary project from the National Science Foundation aimed at fostering collaboration in quantum research.
The proposal is built around the new ability to share information through photonic integrated circuits which encode information on light, rather than electricity. It specifically looks to create a single photonic integrated circuit chip for quantum information processing. Such a chip would allow secure quantum networking and quantum computing, replacing the binary zeros and ones of conventional computing with multivariable quantum bits. This change would allow for much more secure communications and computation than current state-of-the-art. The practical applications include significantly improved data encryption for personal privacy. 
Juliet Gopinath, associate professor in the CU Boulder Department of Electrical, Computer and Energy Engineering, is the principal investigator for the project. She said the funding for this proposal comes as part of a new push by the NSF to connect engineers, physicists and material scientists, leveraging the expertise of researchers deeply invested in quantum science with newcomers, who bring different capabilities to address large problems. 
"Part of the push from the NSF is bringing together engineers and physicists to advance the state of quantum science in chip-scale systems that can be mass produced," Gopinath said. "The project combines expertise in several areas, from materials growth to semiconductor detection to quantum theory."
The project, titled On-Chip Entanglement, Preparation, Manipulation, and Detection for Integrated All Quantum Information Processing, has a three-year duration. The budget of $1 million is shared between CU Boulder with Gopinath as PI, Louisiana State University with Co-PI Professor Jonathan Dowling, The University of Texas Austin with Co-PI Professor Seth Bank and The University of Virginia with Co-PI Professor Joseph Campbell.
The project at CU will focus on system chip design and integration, with a particular emphasis on the design and characterization of the photonic integrated circuits. Meanwhile, Bank and Campbell have developed a new type of avalanche photodiode with performance rivaling current telecom detectors. These high-sensitivity photodetectors will be enablers. Dowling will work with the experimental characteristics of the chip and develop a protocol. 
Gopinath said the project, as a whole, was particularly interesting and important because the team would be creating and testing the tools to be used in technology going forward.
"The reason this proposal is exciting is that it is part of initial effort in U.S. to get this type of research off the ground," she said. "You can imagine mass producing billions of these chips and harnessing their power for applications in computing and networking. That is the spark behind this project!"