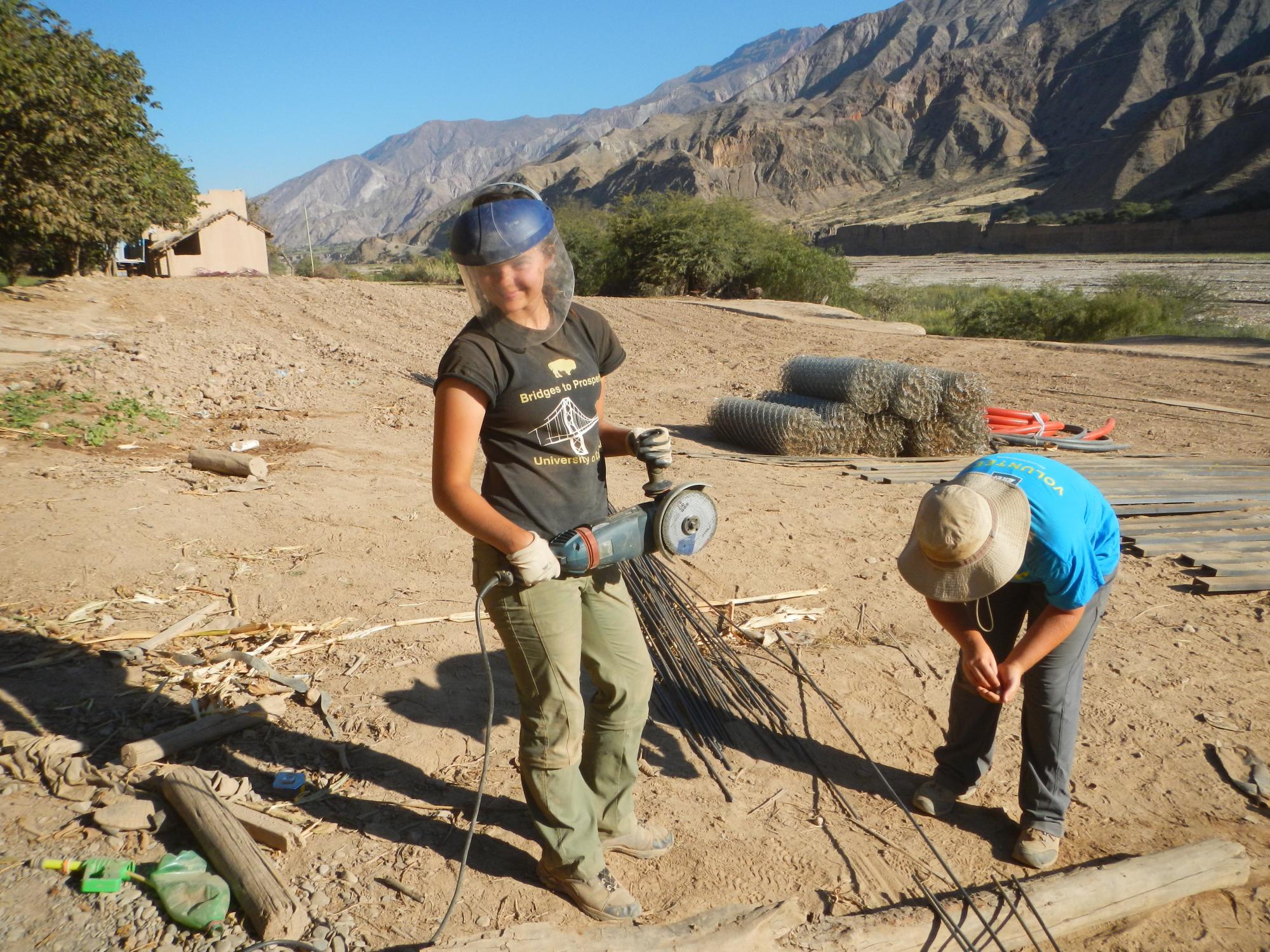 One of Zoey Craun's favorite CU Boulder memories happened far from the campus itself – about 4,000 miles from campus, to be exact.
The architectural engineering BS/MS student – chosen as this year's Outstanding Graduate from the College of Engineering and Applied Science – had traveled to Bolivia with the CU chapter of Bridges to Prosperity to build a footbridge in an isolated community.
Due to some unforeseen project delays, the team ended up staying awake all night to complete the bridge decking with a few dedicated community members. They walked across the finished bridge for the first time just as the sun was rising.  
"Bridges to Prosperity gave me a direct avenue to be able to appreciate the tangible aspects of engineering," Craun said. "Being able to design something and then walk across the finished project was an amazing experience."
She will return to Bolivia with the team this summer to put some final finishing touches on the bridge, before starting her professional career with consulting firm Simpson Gumpertz & Heger's San Francisco office.
Among its services, the company investigates why construction materials fail, something Craun began researching in Assistant Professor Wil Srubar's SIM Lab as an undergraduate. She went on to complete her master's thesis on alkali-activated cements, which solve some of the environmental and durability issues found in ordinary cements.
Srubar said Craun's efforts in the project were the best he has seen from a master's student, attributing it to her passion and attention to detail.
"Her results are being written up not only for her thesis, but also for another journal publication, bringing her total number of high-quality research papers from her BS and MS research to two," he said. "An outstanding accomplishment for a student also so dedicated to academic excellence, selfless service and international engagement."
In addition to her research and leadership with Bridges to Prosperity, Craun also find time study abroad for a semester in Singapore, participate in the Engineering Honors Program, and serve as a tutor in the BOLD Center. 
Architectural engineering academic advisor Erin Jerick said Craun was usually the first to respond whenever she put out a call for volunteers to help recruit or support other students.
"She is selfless in lending her time and expertise to help out whenever she can," Jerick said. "Although it will be a great loss for our department when Zoey graduates, I'm excited to see the great contributions she will make to the field of architectural engineering."