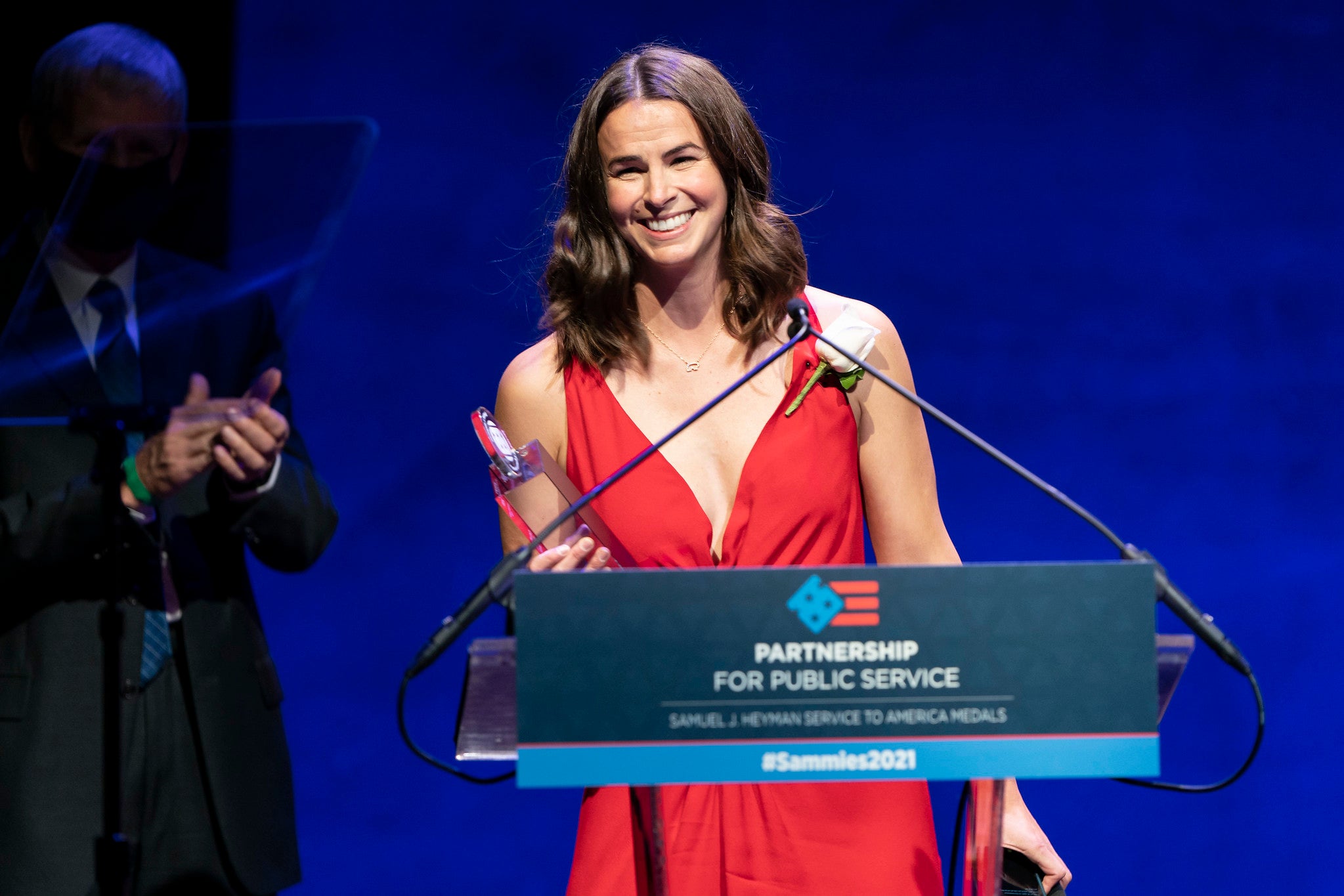 When Callie Higgins (MElEngr'14, PhD'17) went to Washington, D.C., this fall to receive a federal medal for emerging leaders, she found herself sharing the Kennedy Center stage with two researchers who developed the COVID-19 vaccine. 
It was humbling, said Higgins, "but it also helped fortify why I want to continue in public service and stay at NIST and in the government. I do research to give back to everyone, and I hope my research will give back."
A researcher at the National Institute of Standards and Technology (NIST) Boulder Laboratory, Higgins was among 13 winners of the 2021 Samuel J. Heyman Service to America Medal, honoring excellence in the federal workforce.
Known as the Oscars of government service, the "Sammies" are allocated by the nonprofit Partnership for Public Service. Finalists for the medal were selected from more than 350 nominations.
Higgins was honored for her invention of groundbreaking technology to detect, remedy, and reverse-engineer microscopic flaws that threaten the safety and reliability of 3D-printed products. The work potentially revolutionizes the medical, plastics, coating, optics and additive manufacturing fields. 
She started at NIST as a postdoctoral fellow in 2017, after completing her PhD in Professor Bob McLeod's lab. NIST hired her as a research engineer in 2019, and Higgins said she is thrilled with the collaboration available in Boulder and the state.
"Colorado is an incredible hotbed of researchers, with so much talent in industry, government and academia," Higgins said. "And being at CU Boulder was a terrific opportunity to have such access to collaborators. So many people here see value in collaborating, not reinventing the wheel. That's had me excited, pushing this field forward with wonderful collaborators."
At NIST, Higgins joined forces with fellow research engineer Jason Killgore to launch the 3D-printing project in 2018. As a postdoc, Higgins had proposed finding ways to detect manufacturing imperfections that occur in 3D printing, as part of understanding fundamental properties of materials containing natural or synthetic substances called photopolymers that contain very large molecules and react to light.  
Unseen, microscale weaknesses sometimes occur in materials as polymers or plastic form into a solid. A 3D printed heart or lung, for instance, could fail if its makeup contained tiny flaws.
To solve the problem, Higgins and the team developed a method to measure how and where a material's physical composition changes in real time at the smallest proportions as curing occurs. Prior to Higgins' work, product analysis could only be done at millimeter-length scales, but her method allows products to be assessed at the sub micrometer level.
She and her team continue to research and refine the work, which Higgins calls "an opportunity to dive deeply into the fundamental science of this really neat printing technology, knowing our research is adding value and driving innovation for the U.S. in the commerce space."
At CU, Higgins learned about photopolymer manufacturing by building models, and she began applying for roles in tissue engineering at the end of her doctoral program. She was eager to take her skills into that field, which combines cells, engineering, materials methods, and biochemistry to restore or replace human tissues.
Now that her work is giving back in that field, she has hopes for the near future.
"I would like to see us get closer to printing a small version of a lung, a kidney, or bone cartilage interface," Higgins said. "I think we are getting very close to doing that."