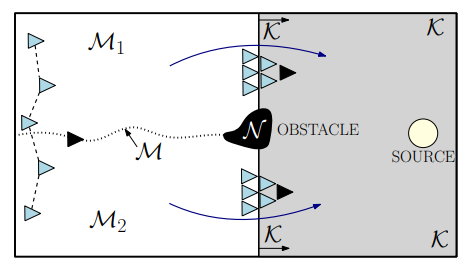 An illustration from one of Poveda's journal papers, showing a group of vehicles seeking the source of a signal, under the presence of the obstacle N. For a smooth control law, the set M represents the points where small perturbations can prevent the agents from converging to the source.
Assistant Professor Jorge Poveda is one of 36 researchers across the U.S. to receive a Young Investigator Research Program grant from the Air Force Office of Scientific Research for 2022. 
The program's goal is to "foster creative basic research in science and engineering, enhance early career development of outstanding young investigators, and increase opportunities for the young investigators to recognize the Air Force mission and the related challenges in science and engineering," according to the AFOSR.
The grants provide $450,000 over three years. Poveda said his team will use their funds to develop more efficient and resilient feedback control algorithms for systems operating in dynamic and uncertain environments, with applications in areas such as cybersecurity, unmanned vehicles and cyber-physical systems.
The systems they're studying – known as stochastic hybrid dynamical systems – can be particularly challenging to control. Poveda gave the example of a team of autonomous robots or vehicles, working collaboratively to achieve a common task, such as finding or tracking a particular target or location.
"We can control these systems by using algorithms with multiple time scales, where a 'fast' controller coordinates the vehicles' position to achieve a particular formation, and a 'slow' controller moves the formation towards the desired target," he explained.
But what happens when that system encounters real-world obstacles and disturbances that it wasn't expecting?
"We would like to understand how fragile or robust these multi-time scale controllers are with respect to stochastic environments or adversarial entities, including situations where the sensors or communication networks are corrupted or jammed with a certain probability," Poveda said.
He said his team's goal is to develop mathematical tools that will allow them to predict the stability of the controllers by studying "simpler" stochastic sub-systems that provide a good approximation of the behavior of the original controller. They will also use what they learn to design novel ways to overcome some of the fundamental limitations of deterministic hybrid control systems in the context of adaptive and model-free feedback-based optimization algorithms.
"The tools developed in this project will naturally allow us to answer these types of questions using hybrid control theoretic methods, thus improving our abilities to guarantee efficient, safe, and robust autonomy in many engineering systems that operate in highly uncertain and dynamic environments," Poveda said. "Our group has substantial experience in these domains, and this grant will allow us to leverage this experience to design more resilient and efficient control systems for complex tasks that require real-time adaptation with stability guarantees."