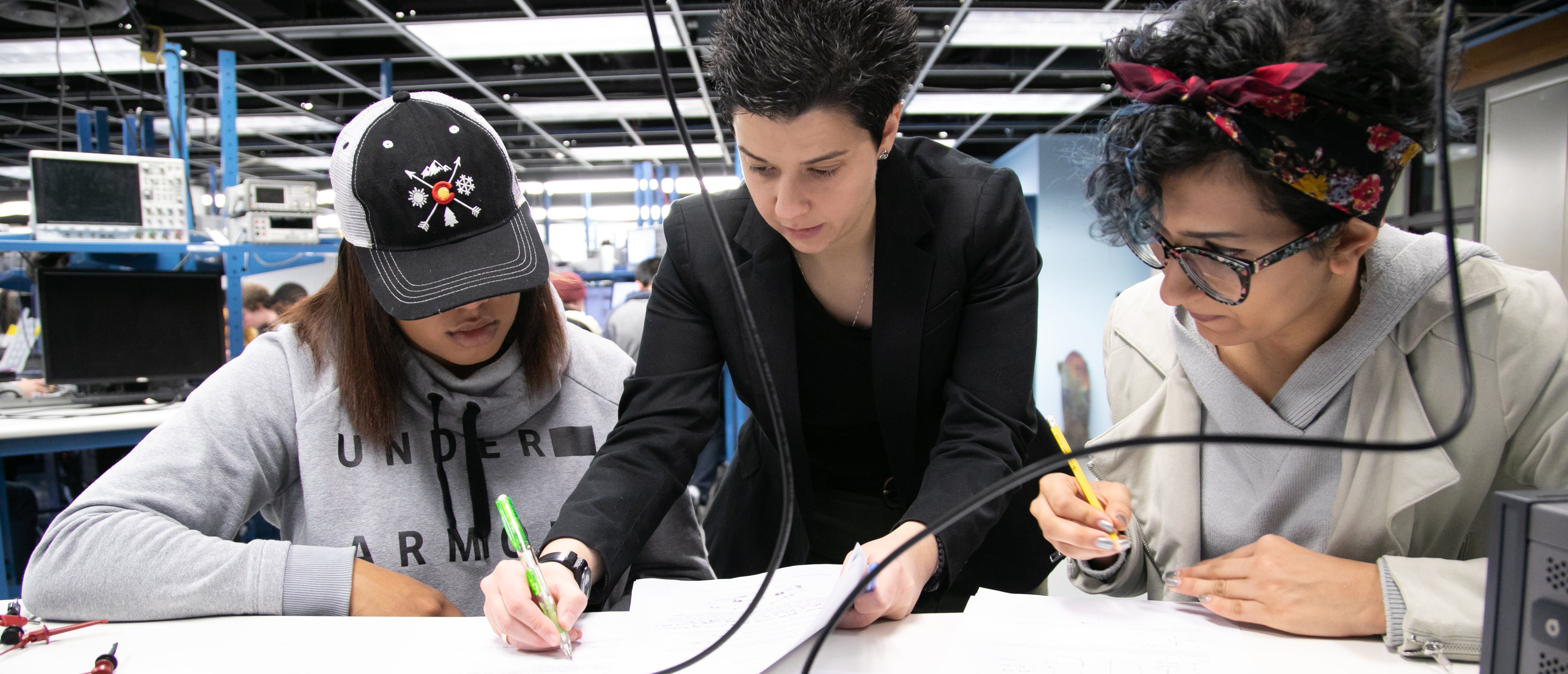 When people hear about the need to make infrastructure more sustainable, they often think of things like roadways and bridges – things they see every day.
But two faculty members in the Department of Electrical, Computer and Energy Engineering have plans to improve the sustainability of critical infrastructure we can't see – namely, our power grid and wireless communication systems. 
Assistant professors Dimitra Psychogiou and Emiliano Dall'Anese have won CAREER Awards from the National Science Foundation for innovative proposals focused on radio frequency spectrum access and algorithmic control of networks, respectively. CAREER Awards provide up to $500,000 over five years to support the research and educational activities of early career faculty.
Dimitra Psychogiou
Psychogiou's long term goal is to develop new types of highly reconfigurable and miniaturized radios that will use the electromagnetic spectrum more efficiently and provide access to a plethora of applications, systems and devices that are critical for human health, public safety and economic growth.
Currently, every application that utilizes the radio spectrum needs dedicated frequency bands to transmit and receive, she explained. But the spectrum is running out of space quickly – especially at lower frequencies that are more congested than ever.
"We urgently need to focus on new solutions that would allow transmission and reception on the same band, for instance, or allow for operation in under-utilized "spectral holes" by dynamically accessing the spectrum when needed," she said.   
With this award, Psychogiou will continue to develop the hardware that would make those solutions possible. In particular, her group will develop new types of tunable RF front-ends and antenna interfaces that can support multiple modes of operation, are resistant to interference and dynamically access the spectrum.
"We have a long tradition in the department in this area. A lot of defense, space and communication companies have benefited from CU Boulder work," she said. "This CAREER Award would really bring things forward in that sense." 
On the educational side, Psychogiou plans to use her research findings to enhance the undergraduate and graduate curricula in the department. She is also eager to engage with students typically underrepresented in engineering by developing coursework for community college students, mentoring incoming veteran students and delivering workshops for female students through the BOLD Center.  
Psychogiou earned her PhD from ETH Zurich in 2013 and joined the CU Boulder faculty in 2016. Her research focuses on the design and practical realization of adaptive RF front-end passive components.
Emiliano Dall'Anese
Emiliano Dall'Anese
Dall'Anese's long-term goal is to develop algorithms to optimize and control the networks that are ubiquitous in the modern world, from power systems and transportation, to connected vehicles and the Internet. Shaping the collective network behavior is an interdisciplinary goal that will take advantage of expertise across the college in controls, optimization and statistical learning.
To this end, Dall'Anese's goal is to develop distributed, data-driven and real-time algorithms that coordinate the operation of a multitude of interacting entities in a network to pursue engineering, social and economic goals.
As a starting point, his proposal for this CAREER Award targets a more sustainable and resilient power grid as one application of his work. With the current structure of our power system, he explained, we are not able to fully take advantage of new technologies of solar power or electric vehicles without experiencing reliability issues.
"We're experiencing reliability problems now, even with low to medium penetration of these new technologies because of their uncoordinated operation," Dall'Anese said.
The innovative algorithms he proposes would allow for better control of the grid, while also acknowledging the needs of individual users, like homeowners with solar panels.
For the educational portion of his proposal, Dall'Anese is excited to develop a K-12 summer camp with CU Science Discovery that will help teach kids about challenges and solutions in transportation and power systems.
"We want to help them develop a sense of appreciation for these mathematical tools that can be applied to critical infrastructures so they can pursue an engineering path," he said.
Dall'Anese received his PhD from the University of Padova, Italy, in 2011 and joined the CU Boulder faculty in 2018. His current research objectives include advancing theory, algorithms and analysis for optimization, control and learning of network and cyber-physical systems.