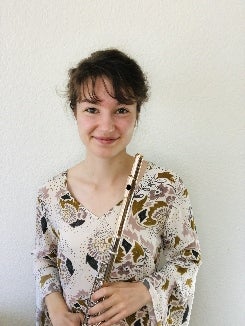 It's fair to say that—due to the COVID-19 pandemic—recent months have been difficult for most of us. This year's Outstanding Students rose to the challenge and modeled the way forward.
Senior flutist Claire Gunsbury—voted by the CU Boulder College of Music faculty as the Outstanding Graduating Senior for Spring 2021—found opportunities to focus on projects close to her heart. She graduates today with a Bachelor of Music degree in flute and the Certificate in Music Entrepreneurship, having worked on a music wellness app for her capstone project; the app aims to help musicians find a way to manage their practice time and their work in a healthy way. 
Additionally, the 2017-2021 recipient of the Sher Distinguished Musician Scholarship is also an avid chamber musician who has premiered new student works for flute through the Pendulum New Music series. "CU has given me a real sense of community and has supported me in my different interests," says Gunsbury, who further serves as 2021 teaching artist for the Colorado Lullaby Project. "I've been so lucky to have [Professor of Flute] Christina Jennings as my teacher and to have been able to collaborate with so many amazing people. I'm definitely going to miss it here!"
Tune in at 2 p.m. today to hear Gunsbury's speech for this year's graduating class.
Other students, too, have flourished at the College of Music and in the local community. Izzy Fincher—a junior working toward a Bachelor of Music in guitar, a Bachelor of Arts in journalism and the Certificate in Music Entrepreneurship—interned at Sharps and Flatirons, a Boulder-based classical music blog. "I had my first taste of professional music journalism and I loved it," she says. "In the future, I hope to work part-time in the industry, when I'm not practicing and performing guitar." 
As arts editor for the CU Independent, Fincher further strives to cover diverse, underrepresented artists and creatives in the Boulder area. "This semester, I focused on writing about local AAPI [Asian American and Pacific Islander] creatives who are exploring and representing their identities," she explains. "As a Japanese-American woman, I feel particularly connected to this work." 
And Mikaela Schindler, a freshman music education major with a choral emphasis, came to CU Boulder in the footsteps of many of her musical mentors. "I knew from my audition day that CU would be my home," she says. "This year has undoubtedly been the most stressful and craziest year of my life, but I'm so thankful for pushing myself through … and for the music that helped me get there." 
Congratulations to Claire, Izzy and Mikaela!