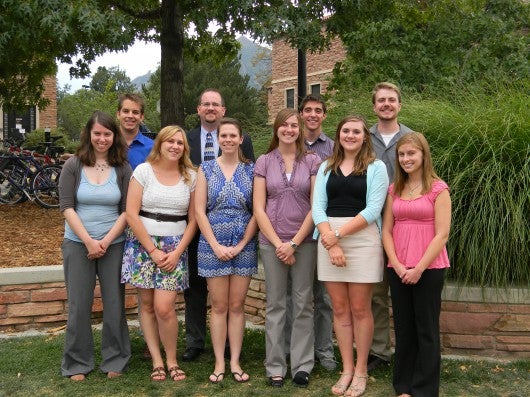 The students of the pre-professional organization for music education majors at the University of Colorado Boulder have recently been recognized nationally and locally for the quality of their programs and their commitment to providing learning experiences for their members. On March 11th, CU Boulder's chapter of the National Association for Music Education (NAfME) Collegiate division received not one, but two 2013 National Chapter of Excellence Awards. NAfME presents these awards annually to as many as three college and university chapters nationwide in each of four categories. Out of 11 total awards this year, CU Boulder's NAfME Collegiate chapter received the rare honor of being recognized with two awards in separate categories in the same year, for Music Program and for Professional Development.
The award for Professional Development recognizes the chapter's unique student-led initiative known as the Colorado Conductors Ensemble (CCE). Formed in 2011, CCE is a voluntary weekly program where music education students have the opportunity to practice the secondary instruments they will one day need to teach, and to take turns teaching short lessons with their peers acting as students. Students benefit from the opportunity to try out their instrumental skills and teaching strategies beyond their coursework in a lab-like setting before working with actual children.
The award for Music Program highlights the work of chapter members with the Middle School Wind Ensemble and String Ensemble program. University students apply to work as conductors or small group coaches as part of this outreach program for local 6th-8th grade students.  The university students work with the children for about 12 weeks and present a concert in late April, with an emphasis throughout the program on gaining practical teaching experience and applying concepts from their academic classes.
"The NAfME Collegiate students show a true dedication to their professional future through these activities," says chapter advisor Dr. David Rickels, assistant professor of music education.  "They consistently go beyond their academic requirements to further their education through engagement, service, and leadership. They should be very proud that their efforts are recognized at such a high national level."
In addition to earning these high national honors, the NAfME Collegiate chapter also was recently awarded a campus grant from the Student Group Funding Board (SGFB) of the Boulder campus student government. The award will provide $20,000 in funding toward chapter members' travel to professional conferences during the 2013-2014 academic year, including the Colorado Music Educators Association conference in Colorado Springs and the Midwest International Band and Orchestra Clinic in Chicago, Illinois. Chapter President Tim Dailey notes, "Conferences give students the chance to network with hundreds of other professionals, get inside knowledge on how to become better teachers, and learn from incredible performances from different schools, colleges, and professional musicians."
The NAfME Collegiate chapter in the College of Music at the University of Colorado Boulder involves over 65 active students each year, representing over three-quarters of the students majoring in music education. Dedicated to the professional development of future music teachers and the advancement of music education, the chapter provides a range of workshops, outreach programs, fundraising, and professional support for its members and for all students in the College of Music.