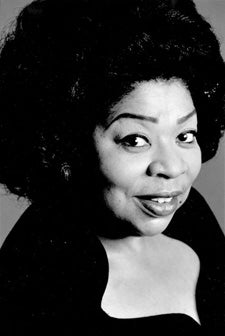 World renowned soprano Martina Arroyo will be presenting a master class for CU students on the evening of Saturday January 26 from 5-7 PM in the Opera Theater, which will be free and open to the public.
Then on Sunday Jan. 26 she will be holding auditions at CU for her Prelude to Performance program. Prelude is a summer program in NYC that offers professional training for young singers including coaching, role preparation, diction, stage combat workshops, master classes with artists such as Stephanie Blythe and Elizabeth Futral, and other related skills for young opera singers. Prelude presents 2 fully staged and costumed operas with orchestra each summer at Hunter College on the East Side of the city. This summer's operas will beLes Contes d'Hoffmann by Offenbach and L'Elisir d'Amore by Donizetti, both in the original language.
Any questions from interested applicants or their teachers or anyone else in the community should be directed to Jennifer.Bird@Colorado.edu.