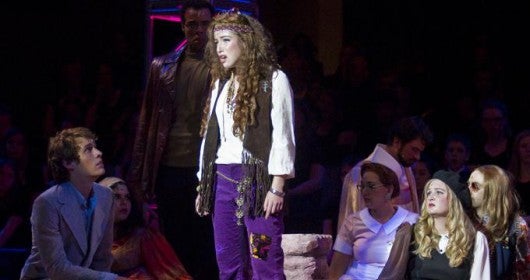 Anna Englander to sing with professional Opera Futura to kick off exchange
Singing in your first professional opera is challenge enough. Throw in a 12-hour, trans-Atlantic flight and a mere two days of rehearsal time — with two different conductors — and you've got a grand task indeed.
But that's just what University of Colorado College of Music student Anna Englander will face in January when she travels to Italy to sing the key role of Suzuki for three performances of Puccini's classic Madama Butterfly in three different cities.
"I'll probably still be a little jet-lagged," says Englander, 22, a mezzo-soprano who received her bachelor's degree from CU and is now in pursuing a master's degree. "I'll just drink a little coffee and get to work."
Englander is the first CU student to participate in a new collaboration between the college and Opera Futura, a Verona-based production company. Leigh Holman, director of CU Opera, Dean Dan Sher and Opera Futura President Paolo Panizza recently finalized plans for a series of exchanges in the coming year.
"We've begun a really wonderful relationship," says Holman, who recently returned from co-directing Madama Butterfly with Panizza.
Massimo Alessio Taddia, a conductor with Opera Futura, visited Boulder earlier this year and introduced Panizza to Holman. Panizza will return in 2013 to direct La Boheme, Holman says. In turn, she will travel to Italy to "put an American flair" on Verdi's Un ballo in maschera (A Masked Ball).
Perhaps most important, she says, two more students from the college will perform with Opera Futura in Italy.
"It's really a great opportunity for our students," Holman says. "They'll be learning about opera in the birthplace of opera."
Meanwhile, Englander says she's taking advantage of resources on this side of the Atlantic to "remotely prepare" for her performances. She has been carefully studying a DVD of the touring production and working with vocal coach Mutsumi Moteki on such things as diction and other artistic details.
"I'll be completely prepared by the time I get there to review the staging," she says.
Englander met Opera Futura conductor Massimo Taddia in Boulder. He contacted her in September via Facebook to ask if she would be interested in performing in Italy.
"It's really a big step from university productions to a professional one abroad. It's exciting, though it's a little scary sometimes," she says.
A native of Hungary who moved to the United States at age 12, Englander says she's also pleased that members of her extended European family will be able to see her perform for the first time.
She came to classical training late and wasn't involved in music at all until she joined her high school jazz choir, where another student told her, "Your voice sounds like a classical voice; it has that timbre." She took the bait, began training and soon was winning competitions and being cast in various roles.
She started her college career at the University of Southern California, but transferred to Boulder when her father, Associate Professor of Mathematics Janos Englander, took a faculty position at CU.
"Being from Europe, I really didn't like Los Angeles; just the fact that you couldn't walk anywhere," she says. "I'm so much happier at CU. "My singing has improved drastically because I am so inspired my Boulder. I just love looking at the mountains and being in nature while thinking about my pieces and arias."
Still, she never expected to be given an opportunity to perform with a professional touring company in Europe when she came to CU.
"I really hope the College of Music is able to continue this amazing collaboration, so other singers will have the opportunity to do something this special," she says.