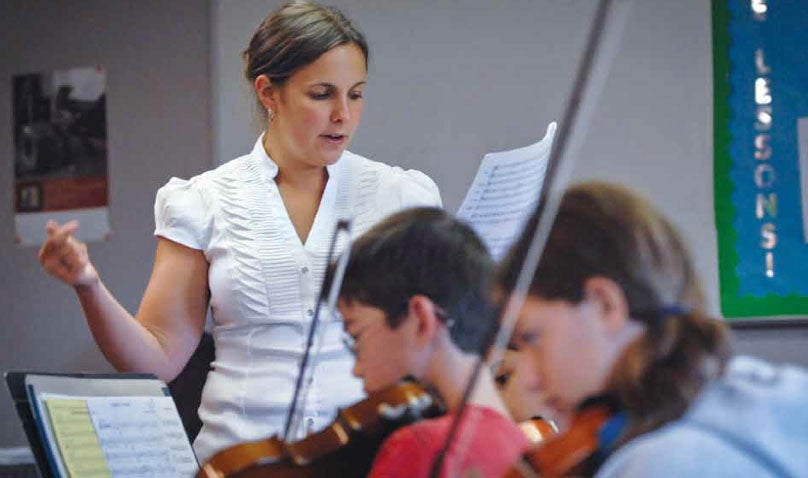 If it weren't for dedicated mentors in her high school, University of Colorado Boulder student Lisa Martin would not have considered a career as a music educator. "It definitely took some persuasion on the part of my directors, and I am forever grateful that they saw in me what I did not see in myself back in the day," she said.
Now a doctoral candidate in music education, Martin had the opportunity to 'play' it forward last spring by mentoring musicians and aspiring music teachers as the graduate student coordinator for the Sustaining a Community of Practice program.
Supervised by Margaret Berg, associate professor of music education, Sustaining a Community of Practice invites middle school band and orchestra students from the Boulder and Denver area to weekly after-school ensemble and small group rehearsals taught by CU-Boulder music education undergraduate students.
At a time when public schools are faced with limited funds for music programs, Sustaining a Community of Practice prepares young musicians and future music teachers through a chain of multifaceted mentoring relationships. The program involves high school students as teacher interns. They are mentored by undergraduate students who serve as ensemble teachers. Graduate students then mentor undergraduate-teacher mentors. The program concludes with cumulating performances directed by undergraduate teachers and performed by the Middle School Wind Ensemble (MSWE) and Middle School String Ensemble (MSSE).
"Participants in this community have a shared goal and may participate on different levels— as a middle school student, teacher intern, teacher, teacher mentor, or CU faculty supervisor— and therefore assume various roles within the program," Berg said. "Over the course of the experience, those involved often become invested in this music teaching community we called MSWE/MSSE, which contributes to their growth into the role of professional music teacher."
Since its inception in 2007, more than 45 high school students have participated in the project and many went on to choose music education, education, or music therapy majors in college. Undergraduate participation has grown from six students in its first year to nearly 30 in spring 2012.
"I enjoy seeing our undergraduate students grow over the course of the semester in confidence and effectiveness," Berg said. "Also, I appreciate seeing our graduate students provide such excellent modeling and support for the undergraduate, high school, and middle school students."
Martin understands the emotions and intrigues the musicians and teachers are experiencing at various stages in their practice and, in some case, steps towards careers in music education.
"I think that because of my own uncertainty with pursuing music education, I can really relate to the high school interns who are themselves testing the waters," she said. "As I go on to become a music teacher educator myself, I look forward to bringing this experience with me, so that another thriving community of music learning can be born."
Story courtesy of CU Outreach and Engagement