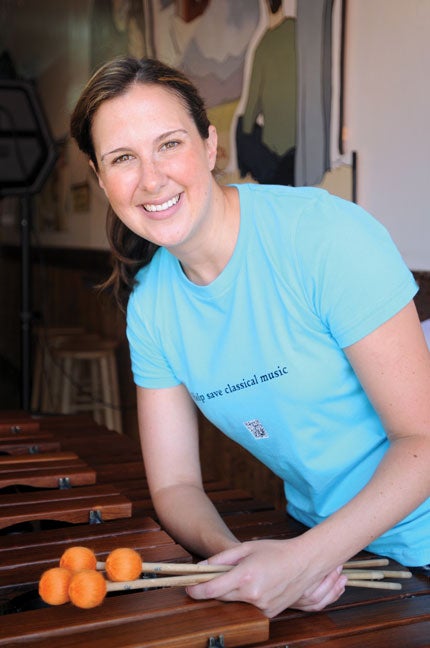 Thanks to the CU Alumni Association's Coloradan Magazine for permission to reprint this great article. 
Taking note
by Kenna Bruner
Jennie Dorris (MMus'05) takes classical music to the coffee shop.
Founded by Jennie Dorris (MMus'05), Telling Stories is a concert series that draws on a cast of 100 classically trained freelance musicians and writers who want to make chamber music and literature "a little more fun and a lot less stuffy."
The hiss of coffee steamers, clinking cutlery and murmur of conversation are an unlikely backdrop for a concert of Mozart, Dvořák and Takemitsu. But for Jennie Dorris (MMus'05), a coffee shop is the perfect place to perform live classical chamber music.
Dorris and her Telling Stories troupe perform chamber music and read original essays at casual Colorado venues, including cafés and art galleries. They've even performed amid kegs of beer in a brewery warehouse.
Founded by Dorris in 2006, Telling Stories is a concert series that draws on a cast of 100 classically trained freelance musicians and writers who want to make chamber music and literature "a little more fun and a lot less stuffy." It has its own radio show on Colorado Public Radio.
Her goal is to attract a younger audience to classical music, and what better way to do that than by performing where the show can be enjoyed over coffee or a brew?
"I want to make classical music more approachable," Dorris says. "Most 20-somethings are not invested in classical music and have zero patron knowledge. That meant plopping music down in the middle of their lives."
And in the process, Dorris, 31, is carving out an unconventional niche by combining her two passions — writing and music — into one creative career.
"Classical music has such complexity and passionate intensity," she says. "I can hear a sad pop song and enjoy it, but when I listen to a Chopin prelude, I can feel the sorrow."
Dorris plays percussion instruments, including drums, vibraphone, glockenspiel and a six-foot-long, five-octave marimba. She graduated from CU-Boulder with a master's degree in percussion performance during a tight economic climate in which young musicians were jockeying for scarce positions in traditional orchestras. Rather than get a job while waiting for a position to open, Dorris decided to take music to the people.
Telling Stories' inaugural hour-long concert was at the Laughing Goat Coffeehouse on Pearl Street in Boulder. The theme was Getting Ahead of Ourselves, a tongue-in-cheek nod to her concern she was launching Telling Stories prematurely.
"The idea of that first concert was to push the concept down the mountain and see if it would roll," she says. "It's hard when you're making your own career path because you don't even know what the milestones look like."
Her concerts typically consist of three to five musicians playing classical chamber music or a commissioned new chamber piece interspersed with two to four writers reading short original essays based on a theme. Topics have included Rush Hour,Expecting and Guilty Pleasures. Although these novel concerts are performed outside the traditional symphony or recital hall, the classical repertoire is never compromised.
"We don't ever dumb down our music," Dorris says. "We play hard and sometimes avant-garde repertoire and people come along with us because they're comfortable. They're not trapped in their seats scared they'll cough. They love to stay after concerts and talk with the performers. We're attracting people who are new to classical music."
Music and writing have been part of her life since Dorris was growing up in Oklahoma.
"If you saw me in high school, you'd see a younger version of me doing what I do now," she says. "I was running the school newspaper and playing in the band."
She double-majored in music and magazine writing at Drake University. After graduating Dorris wanted more training and mentorship for her music, which led her to the College of Music at CU-Boulder. With writing, however, she just wanted more work. She has written for publications as diverse as Field & Stream and Entrepreneur and wrote a blog for 5280 Magazine about living an affordable sustainable life.
Since it launched, Telling Stories has transformed into a burgeoning business. In 2010 Dorris received a MasterMind Award from Denver's Westword magazine for being a cultural visionary, and she has been featured in Symphony Magazine.
Dorris stays busy with music, writing and extending her interdisciplinary reach. She teaches journalism at Community College of Denver and music at Red Rocks Community College in Lakewood, Colo. She is a sabbatical replacement instructor at the CU College of Music and plays with the Colorado Ballet and Colorado Springs Philharmonic.
In addition, she created a program at the Denver School of the Arts in which she works with high school students to produce 10-minute performance pieces showcasing the kids' music, art and writing.
Jeffrey Nytch, director of CU's Entrepreneurship Center for Music, emphasizes the untapped opportunities for the entrepreneurial musician.
"The most effective entrepreneurs are those who create opportunities that didn't exist before," Nytch says. "Musicians who succeed at this connect with the audience because they have something authentic to communicate while staying true to their art."
Dorris has learned that finding her niche means developing a career that is a satisfying amalgam of two arts.
"I love interdisciplinary work because I'm wearing all my hats," she says. "I'm not just a writer or a musician. I'm the type of person who can see how many different things can work together."
Kenna Bruner, a writer and editor with the CU-Boulder office of university communications, interviews and writes about CU's many interesting and inspiring faculty, students and alumni.
Photo: Founded by Jennie Dorris (MMus'05), Telling Stories is a concert series that draws on a cast of 100 classically trained freelance musicians and writers who want to make chamber music and literature "a little more fun and a lot less stuffy."