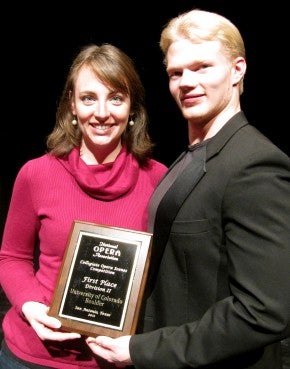 CU Opera won first place in the National Opera Association (NOA) opera scenes competition held Thursday, January 6 in San Antonio, Texas. CU-Boulder graduate voice students John Robert Lindsey and Nicole Vogel performed under the direction of CU Opera Director Leigh Holman, with accompaniment by Music Director Christopher Zemliauskas. The performers participated in a master class of their winning scene with Richard Crittenden and Elizabeth Vrenios on January 6, and were honored at a celebratory brunch on January 9.
This is the second year in a row that the CU Opera Program has won this prestigious honor.
The National Opera Association was founded in 1955, under the auspices of the National Music Council. The National Opera Association seeks to promote a greater appreciation of opera and music theatre, to enhance pedagogy and performing activities, and to increase performance opportunities by supporting projects that improve the scope and quality of opera. Members in the United States, Canada, Europe, Asia, and Australia participate in a wide array of activities in support of this mission.
Photo: Nicole Vogel and John Robert Lindsey with their NOA award plaque.