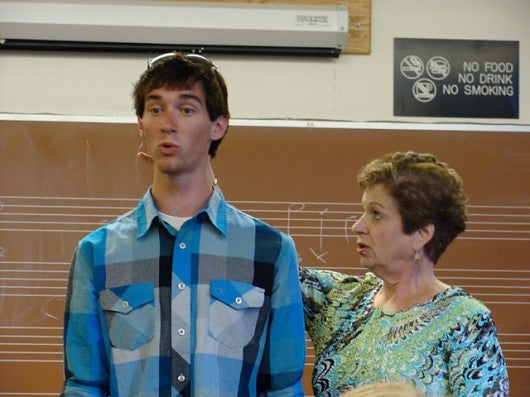 On Monday, October 11, 2010, the College of Music welcomed 74 students, along with their friends and families, to the first CU Music Day.  The day presented informational sessions, events and activities for students to learn more about the College of Music and its degrees and programs.   The day began with students receiving information from the Admissions Department and the administration of the College of Music, Dean Daniel Sher, and Associate Dean for Undergraduate Studies, James Austin.  Students also participated in a sample lecture presented by Instructor Paul Miller, and were given a tour of the building by current College of Music students.  One parent commented,
"I found most everything to be interesting, and I am not a musician."
Students were also given an opportunity to meet faculty members in their areas of interest, from strings to brass, and voice to composition.  A Music Day student remarked,
"I liked being able to observe that the professors are not only approachable, but truly care about their students."
In the afternoon, students witnessed a variety of rehearsals including the Symphonic Band, Chamber and Opera Orchestras, and the University Singers and University Choir.
Professor Gemmell (Director of the University Choir) invited the visitors to rehearse with the University Choir, which was my personal favorite part of the day! This made me feel really welcomed, and was an excellent experience. Going to the rehearsals was inspiring as well. – Music Day Student
The day concluded with two vocal master classes presented by the Voice Faculty, and a rehearsal by the Golden Buffaloes Marching Band on Farrand Field.  Parents and students alike were excited about their experience as they stated,
"We were very grateful for the opportunity to tour the school and learn about what was available for building his future" (Music Day Parent), and "I had an amazing day at the CU Music Day!" (Music Day Student).
We hope you are able to join us for the next CU Music Day!
Fred Peterbark
Assistant to the Dean for Recruitment & Outreach
College of Music
University of Colorado – Boulder