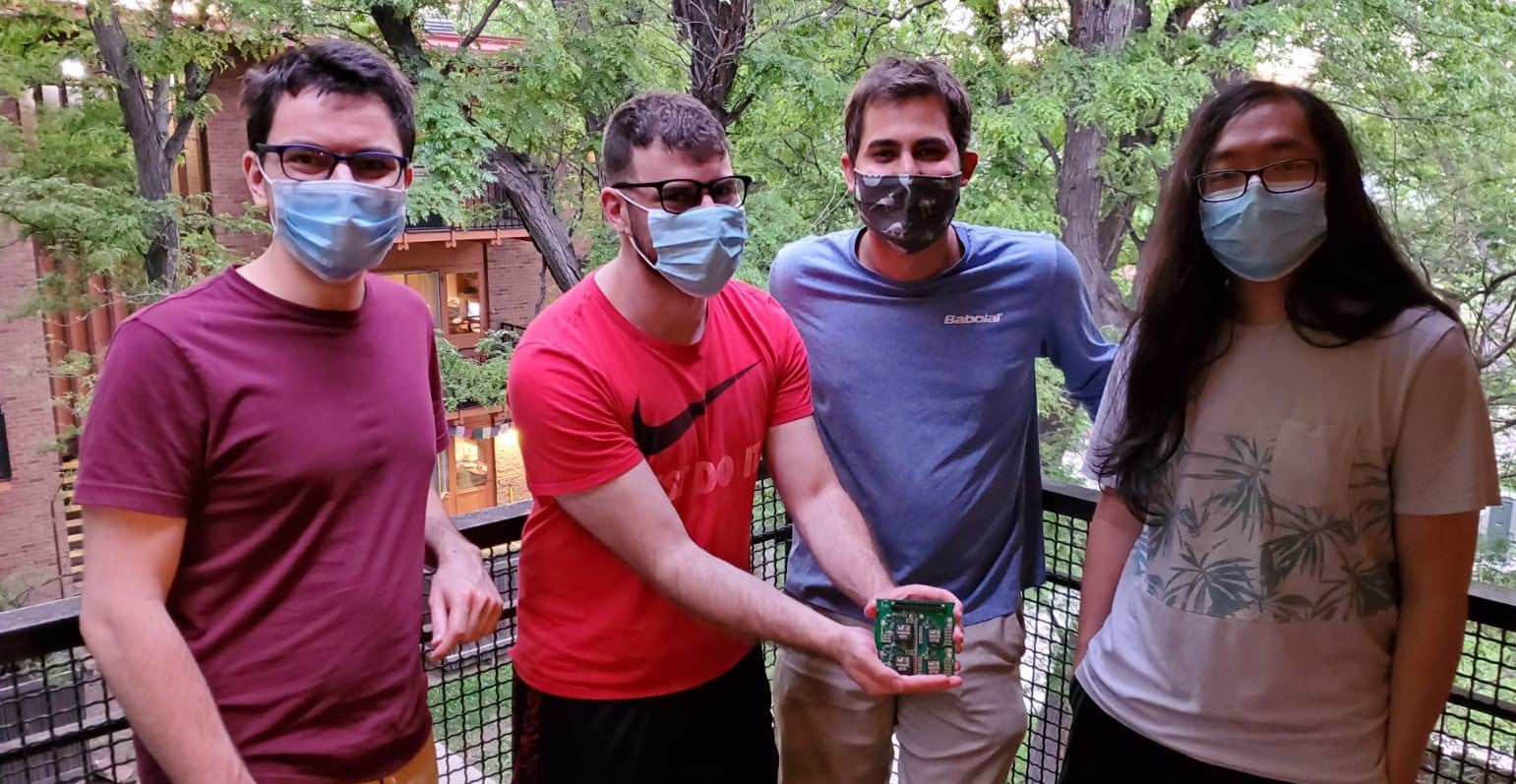 A group of six undergraduates and recent graduates from CU Boulder will be among 10 teams competing in the final round of the IEEE International Future Energy Challenge next month.
Since 2001, the international student competition has been one of the most prestigious in the power electronics field, focusing on "innovation, conservation and effective use of electrical energy."
This year's competition challenged teams to design power supplies for nanosatellites, a fast-growing segment of the aerospace industry. The teams were given an initial set of specifications for the power supplies, with the goal of extracting maximum power from two solar panels to charge a satellite battery.
Team member Phillip Montoya said the team focused on designing a system that used as few power convertors as possible.
"The point of converters is to change the voltage and current of the system without losing any power," said Montoya, who completed his undergrad work in spring 2020 and is starting the master's portion of his BS-MS degree. "The more components you add, the more loss you have. So we went for a system that implemented the least amount of converters, so we could get the least amount of loss from those."
PhD student Janko Čeliković, who competed in the competition at his undergraduate institution, originally proposed starting a team to his advisor, Dragan Maksimović. He's now a team mentor and said he's happy they get the same valuable experience he got as an undergrad.
"It's a really good experience when you're working in a team. You learn to work with people a lot better and how to be self-organized," he said. "The biggest benefit that I got from the competition was having it in my resume. During job interviews, it was always an interesting talking point and it gave me an advantage when searching for positions."
Recent graduate Jean-Christophe Owens agreed that the experience was valuable for the team members. Owens, the outgoing leader of CU Boulder's IEEE chapter, said he and several other IEEE members joined the team as a way to supplement the chapter's workshops and conferences with a real-world project experience.
"It felt like another class where you could learn, but in a really positive way that you wanted to do it versus having to do it," he said. "You can have projects that you do yourself or with friends, but when you have to do something like this, that expertise that you learn from each other, it gives you so many more elements that you learn from."
Several of the team members recently strapped on their masks and met to do some final testing of the prototype, which they'll present and demonstrate for judges remotely in late August. If travel is possible in November, they may also get the chance to compete in person in Denmark in the competition's final phase.  
Čeliković said he is proud of what the team has achieved in their first year of competition, especially under such unusual circumstances. 
"This is a very professional competition. You need the knowledge of power electronics and how to build circuits," he said. "In the end, you have to build a real prototype. You cannot just give a nice presentation and get the prize for it. It has to work."