The Graduate School is offering digital credential badges that graduate students and postdocs can earn as one of the school's professional development opportunities.
These badges augment a traditional degree but are not for academic credit. They are online microcredentials that let students showcase the skills, competencies or achievements they gained through learning experiences.
Clicking into a digital badge reveals information about CU Boulder, the date earned, the criteria required to earn the badge and evidence showing the student has met the required criteria. 
Digital badges are dynamic credentials the student owns and can be used on social media sites, such as Linkedin. They can be added as a link on a digital résumé or embedded into the student's e-portfolio.
The Graduate School offers four credentials: professionalism, communication, leadership and mentorship.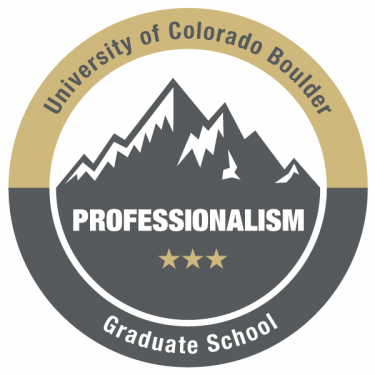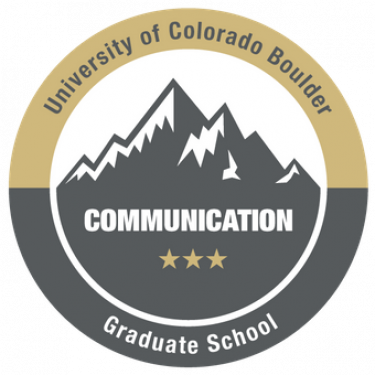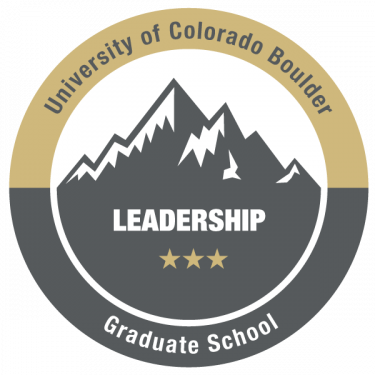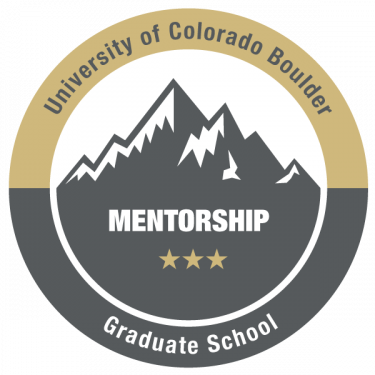 Images of the Graduate School's digital badges
"Everything is online," said Sarah Tynen, the graduate program manager. "We can issue these badges with a click. The advantage is that we're not just giving students a certificate that says they have skills. We're creating an online footprint by providing the actual evidence of what they did. Employers can see they have a badge and the work that earned the badge." 
What's important about the badge is that it's backed by a robust program that offers skills students can learn that will prepare them for industry jobs outside of academia. 
"We want students to look inside and outside of academia for career opportunities," Tynen said. "We have always encouraged our students to look outside faculty and postdoc positions. Our students are so well qualified for such a wide range of jobs, but they need to broaden their horizons to include industry jobs. This is one way they can start to get extra skills like writing and presentation skills specifically for industry jobs. A badge can give students a leg up on the competition who are looking at the same jobs."
Boot camp hones communication skills
Maria Calahorra-Jimenez is a PhD student in the Department of Civil, Environmental and Architectural Engineering with a focus on construction engineering and management. She earned a communication badge.
Calahorra-Jimenez participated in the 12-week publication boot camp where she worked on a journal article related to her thesis. During 12 sessions, students were guided through all the sections and the main elements to be considered when writing a scientific article. She had the opportunity to share her progress with other graduate students, which she found useful for gathering constructive criticism and improving her work. She also learned productivity habits to make the most of her writing time.
She participated in all the workshops oriented to guide students to prepare their presentation for the Three Minute Thesis, a competition in which students present a condensed version of their research. In the workshops, she learned how to structure the speech, how to connect with the audience, how to associate emotions with the message and how to use her body language. She had plenty of opportunities to receive comments during the preparation of her speech, an activity that has helped her improve her public speaking skills. 
She attended the Build Your Research and Writing Tool Kit, which addressed the use of different tools and methods related to literature review practices and data management.
"As a nonnative English speaker, this badge is very relevant to me," Calahorra-Jimenez said. "When I finish my PhD, I expect to be a faculty member in this country, so writing and speaking skills are fundamental for me. This badge recognizes my accomplishment in this regard. And this recognition is not only crucial for showing potential bosses and colleagues my communication level, but also it is relevant for me since it is a reminder that with perseverance and effort, everything is achieved."
Grad liaison earns leadership micro-credential
Georgiana Salant is a PhD student in the biochemistry program where she studies how gene expression is regulated by small RNA molecules in skeletal muscle development, and how alcohol consumption contributes to breast cancer on a molecular level. She previously completed enough requirements to earn leadership and communication badges. She wanted the badges because she knew they would help build her résumé.
The leadership badge provides a micro-credential for the graduate liaisons, who are hired to act as the primary contact between the Graduate School and the students it serves.
Salant has been the graduate liaison to the natural sciences since the start of the program in fall 2018. She represents grad students across 14 different departments and ensures they are aware of professional development resources open to them through monthly emails and informal word of mouth. She also gathers ideas from her peers on services that would be helpful and summarizes them in monthly reports to the Graduate School.
She hosted a formal focus group with grad students across five departments to help gather ideas. She created and hosted a professional development workshop in collaboration with Career Services on how to translate skills learned in grad school for use in the workplace. In addition, she met several times during the academic year with the Graduate School staff and the other graduate liaisons to help brainstorm ideas, foster cross-disciplinary connections, and improve professional development opportunities for the grad student community. These responsibilities also meet the requirements for the leadership badge.
For the communication badge, Salant participated in the 12-week publication bootcamp workshop, competed in the Three Minute Thesis (3MT) preliminary competition, participated in a couple of the Graduate School write-ins and published a paper, all within the past academic year. She enjoyed the opportunity to participate in both the 12-week publication bootcamp and the 3MT competition since they focused on two different types of scientific communication. The bootcamp helped Salant communicate her science in an academic manner, which ultimately led to her publication, while the 3MT competition helped her break down her science for a broader audience.
"I was excited to hear about the badging program, as I knew it was a way to showcase my transferable skills that I learned in graduate school," Salant said. "I'm particularly interested in jobs in the pharmaceutical and biotech industry that greatly value things such as communication and leadership. Being able to earn these badges is a nice way to concretely show that I have these skills. In the long term, all the professional development experiences that helped me qualify me for these badges will help me in my career."