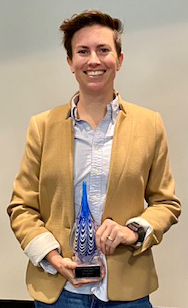 Niki Spaeth—Training Manager & Research Security Administrator, Office of Contracts and Grants—received the 2022 RIO Champion Award. 
---
Niki was nominated by:
Gary Henry, Assistant Vice Chancellor for Research; Director, Office of Contracts and Grants, CU Boulder
Nicole Jenkins, Associate Director, Organizational Effectiveness, Office of Contracts and Grants
Jon Reuter, Assistant Vice Chancellor for Research, Integrity & Compliance
David Scarbeary-Simmons, Director, Research Financial Services, Campus Controllers Office
What the nominators said About Niki
In addition to performing her job at an exemplary level, Niki demonstrates an extraordinary commitment to OCG, RIO and the entirety of the university. She brings a team player mindset to everything she does with willingness, skillfulness, collaboration and an energetic "can do" attitude that personify the qualities of a RIO Champion.
Niki never shies away from a big hairy project and has developed the skills necessary to navigate and facilitate from a position of influence rather than authority. If there is a job to be done, she steps up, learns and contributes to the solution. This could not be more evident than her willingness over 3 years ago to take on research security tasks, first as a proposal analyst, and continued when she took over the training role. While an unusual marriage of roles with training and research security administration, she approaches the challenge with her sense of responsibility and ownership for what needs to be done for the good of the whole.
Niki has a rare blend of creativity and flexibility that allows her to successfully navigate constantly changing conditions. OCG, RIO and the university are better off because of Niki's talents and contributions to serving the university's research mission. We recognize Niki's consistent excellence in all she touches, her service above self and her spirit of collaboration that we are better together as the qualities that typify her nomination for the RIO Champion Award.
Examples of projects where Nikki has facilitated and enabled success in the past year include the following:
Under the research security umbrella, Niki took on the effort to understand, streamline and document the evolving disclosure process required by Federal sponsors in collaboration with the Conflicts of Interest (COIC) and Export Control (OEC) Offices. She focused on the PI's experience and how to make this important compliance requirement the least burdensome as possible. She collaborated with COIC on the integration of the process as part of the annual DEPA. Because Niki is a skillful and innovative educator, she took advantage of this opportunity to drive awareness to PIs in other ways that help the end user digest the information and put it to use. The result of this was a COI Matrix tool used by COIC and the development of an online research security "hub" that provides easily digestible information and connections to research security related topics.
Niki's complete overhaul of the OCG new employee onboarding program was a significant undertaking, requiring collaborations across OCG. It may be one of the most impactful initiatives of the past year within OCG with numerous outcomes, including breaking down silos through consistency and empowering new employees. The OCG onboarding program she created puts the new employee in the driver's seat with an excellent roadmap to guide their first days and weeks in their new jobs. The feedback from new employees has been outstanding, and managers are thrilled to have a streamlined process that is helping them with their onboarding responsibilities. This program is a win for everyone with interest coming from campus to expand the concept for onboarding new department research administrators.
Beyond the CU Boulder campus, Niki's excellent work has been recognized by and lead to the growth of research administrators at other institutions through attending the Certified Research Administrator learning sessions she coordinates. She regularly shares resources, including our Subaward Officer Training module, which Niki designed with OCG's Subawards Manager. The Subaward Manager at an Ivy League college used the module to onboard new staff and commented, "It is the best position training I've ever seen."