New episodes of Buff Innovator Insights, a weekly podcast from the Research & Innovation Office (RIO), will feature experts on natural hazards and health and wellness.
---
The podcast offers a behind-the-scenes look at some of the most ground-breaking innovations in the world–all emanating from the CU Boulder campus–through the lens of the personal journeys that made those discoveries possible.   
Terri Fiez, Vice Chancellor for Research & Innovation, hosts this up-close and personal look at how researchers, scholars and artists become global pioneers, why they are so dedicated to discovery, and their visions of the future in the wide range of fields they explore. 
New episodes air each Thursday through May 6. 
Visit the Buff Innovator Insights podcast website to learn more, listen and subscribe.
Upcoming Episodes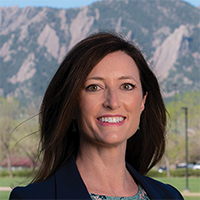 Airing Thursday, April 1: Lori Peek–Sociology; Institute of Behavioral Science; Natural Hazards Center; CONVERGE
In this episode of Buff Innovator Insights, we meet Dr. Lori Peek, Professor of Sociology, Faculty Associate at the Institute of Behavioral Science and Director of the Natural Hazards Center. We'll learn about her formative years in small-town Kansas, how her research is helping us learn from disasters like Hurricane Katrina and the COVID-19 pandemic, and her love for teaching and mentoring students.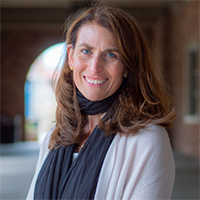 Airing Thursday, April 8: Sona Dimidjian–Psychology and Neuroscience; Renée Crown Wellness Institute
Dr. Sona Dimidjian is director of the Renée Crown Wellness Institute, which seeks to promote the wellness of young people and the systems and adults who support them through interdisciplinary research-practice partnerships. Dr. Dimidjian's research focuses on cultivating mental health and wellness among women, children, and families by engaging people's capacities for learning to care for themselves and their communities.