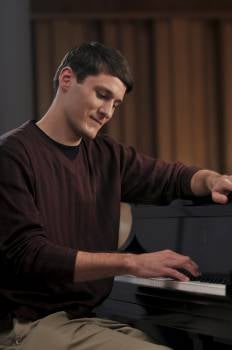 Keane Southard (MM 2011, composition) has been awarded a Fulbright U.S. Student grant to spend nine months next year pursuing research in Brazil.
Southard's project will examine the effectiveness of the Brazilian music education programs that are inspired by Venezuela's "El Sistema," the national system of youth orchestras which has come to international attention by providing free music education for hundreds of thousands of Venezuelan youths, including Gustavo Dudamel, the thirty-one year old conductor of the Los Angeles Philharmonic.
The incredible success of this system has inspired many other countries to adopt similar programs, including the United States and Brazil. "The 'El Sistema' programs that have begun in the U.S.," explains Southard, "are very young and are still figuring out how to successfully adapt it to American culture, yet the potential is there to help millions of American children's lives if we can make it work. My goal is to discover what the United States can learn from the 'El Sistema' programs in Brazil, which are generally a bit older than ours and have had more time to work though this process of adaptation."
Southard completed his Masters of Music in Composition at the University of Colorado-Boulder in May 2011. Since then, he has returned to Massachusetts to work as a freelance composer, pianist, and organist in the greater Boston area. In January of this year, he spent four weeks as composer-in-residence at Playa, an artist residency in rural central Oregon, followed by seven weeks as composer-in-residence at the Kimmel Harding Nelson Center in Nebraska. He is currently completing a Piano Concerto, commissioned by the Sounds of Stow, for himself to perform as soloist this coming November. This summer, he has been selected as one of four composers to attend the University of Nebraska-Lincoln Chamber Music Institute where he will have a new work for brass quintet premièred, as well as one of three composers selected for the National Band Association's Young Composer Mentor Project at Arizona State University in Tempe. In addition, he will be studying composition this summer at the Bowdoin International Music Festival in Maine.
As a composer, Southard has been the recipient of many awards, most recently First Prize in the Longfellow Chorus International Composers Cantata Competition, the Charles B. Olson Young Composer Award, and the Ars Nova Singers Colorado Composers Competition. As a pianist, he has performed across the country, including at conferences and festivals in Colorado, Ohio, Illinois, and Missouri.
For more information about Keane Southard, please visit his website at keanesouthard.instantencore.com.