IBG trains graduate students in research on the nature and origins of individual differences in behavior. To train at IBG, students must be admitted to a PhD program at the University of Colorado (Boulder or Denver). Upon completion of the training program, students receive a certificate in Behavioral Genetics.  This is accomplished by requiring students to obtain a strong training in a primary academic discipline, by instructing them in the interdisciplinary content of behavioral genetics, and by providing an atmosphere that fosters interactions among scholars from different disciplines.
---
Applications for the Behavioral Genetics certificate program can be submitted anytime after admittance to an IBG-affiliated PhD program (i.e, PSYC, IPHY, MCDB) and are reviewed on a rolling basis. However, to be considered for a potential training grant appointments, applications should be submitted by December 31st.
---
If you are a prospective student, not yet admitted to a PhD program at the University of Colorado, we highly recommend contacting directly the faculty member(s) with whom you would like to work. That faculty member can help guide you through applying to the appropriate academic department. Our faculty love to hear from prospective students, so please email us!
If you already know with which faculty member you want to work, you can also apply directly to the Ph.D. program the faculty member is affiliated with. You can find each faculty member's affiliated department under their picture on the Faculty page. For example, if you would like to enroll as a PhD student mentored by John Hewitt, you would apply to the Behavioral, Psychiatric, and Statistical Genetics PhD program in the Department of Psychology & Neuroscience and list Professor Hewitt as your advisor of choice. If you would like to work with Jerry Stitzel, you would apply to the PhD program in the Department of Integrative Physiology and list Professor Stitzel as your advisor of choice.
We are committed to fostering a diverse student and trainee body, and encourage individuals from diverse backgrounds to apply.
Steps to Apply:
Determine the faculty member(s) with whom you would like to work.
If you like, email the faculty member(s) to determine which academic departments they are affiliated with, and how to apply to those departments.
Apply to departmental PhD program with which that faculty member is affiliated. These include:


Inform the faculty member(s) from step 1 that you've applied.
Current CU Graduate Students
For current CU graduate students (i.e. those who have already completed at least one year of coursework), you should complete the Application for Graduate Training Program at the Institute for Behavioral Genetics.
Program Requirements
---
All students are eligible to take any graduate level course offered at the University of Colorado Boulder or at the University of Colorado Health Sciences Center, Aurora that is deemed suitable for their research interests, with permission of their research advisor. This includes courses offered through the various departments with which IBG faculty are affiliated: Psychology; Integrative Physiology; Neuroscience; Molecular, Cellular, and Developmental Biology; Computer Science; Human Medical Genetics (Denver); and Pharmacology (Denver).
To graduate with an IBG Interdisciplinary Certificate, students must complete two sets of requirements. The first set of requirements comes from the program and Department in which they are enrolled, and includes all requirements of the Graduate School of the University of Colorado. The second set of requirements is specific to the Interdisciplinary Certificate. (Students in the Behavioral, Psychiatric, and Statistical Genetics Program in the Department of Psychology and Neuroscience need to complete only the program requirements since the certificate requirements are a subset of the program requirements).
Courses Taught by IBG Faculty
---
Student Funding
---
​​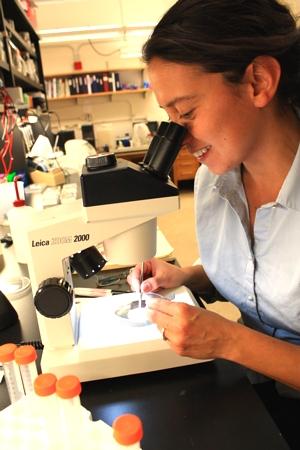 IBG has three NIH-funded training grants that support up to 10 predoctoral students and 4 postdoctoral trainees. These grants are administered through the National Institute of Mental Health, the National Institute on Aging, and the National Institute on Drug Abuse.
All IBG predoctoral trainees are fully supported during their graduate studies, either through one of these NIH-funded training grants, as a research assistant (RA) with their faculty mentor, or as a teaching assistant (TA) in their home department. This support includes a living stipend, tuition, insurance, and limited book and travel allowance to trainees in our program who continue to meet annual requirements. Students accepted into the IBG training program will normally be supported as a TA in their first year, and will be considered for a training grant position in subsequent years. There are usually more students than training grant positions and so students may be supported by any of the three mechanisms at various stages in their training.
All IBG trainees are eligible to apply for summer funding to support their research activities during the summer.
The University of Colorado is an equal opportunity/nondiscrimination institution and diverse applicants are especially encouraged to apply. We also welcome applications from students with disabilities and the Institute is partnered with the University of Colorado at Boulder Disability Services to encourage and support such students. Please contact Disability Services at http://www.colorado.edu/disabilityservices if you have questions about support services at the University of Colorado.
 
Undergraduate Research Opportunities
---
Undergraduate Research Opportunities Program (UROP):
UROP funds undergraduate research, scholarly and creative work for CU Boulder undergraduate students with several types of grants. For more information, please check out: