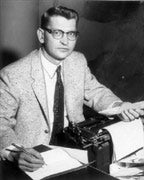 The award, sponsored by the Journalism department at the College of Media, Communication and Information and the Denver Press Club, honors the late Al Nakkula, a 46-year veteran of the Rocky Mountain News whose tenacity made him a legendary police reporter. Nakkula passed away in 1990.
The award is for work produced by a reporter or reporting team in print and/or online platforms in the United States in 2023. Entries should take the form of a story or series about one topic and/or event. Sorry, this award is not for broadcast work. 
The first-place prize is $2,000. The winner will also be invited to speak to classes at the University of Colorado Boulder's College of Media, Communication and Information.
The award will be announced at the Denver Press Club's Damion Runyon event. The second-place finisher will receive a certificate of merit.
Learn more about the 2023 winner: Secret 911 call analysis
| Year | Name(s) | Story | News Organization |
| --- | --- | --- | --- |
| 2023 | Brett Murphy | "Words of Conviction: Tracing a Junk Science Through the Justice System" | ProPublica |
| 2022 | Meribah Knight (Nashville Public Radio) and Ken Armstrong (ProPublica) | "Black Children Were Jailed for a Crime That Doesn't Exist. Almost Nothing Happened to the Adults in Charge" | ProPublica (in partnership with Nashville Public Radio) |
| 2021 | Eric Umansky with Adriana Gallardo, Lena Groeger, Joshua Kaplan, Topher Sanders, Joaquin Sapien, Mollie Simon, Moiz Syed, Lucas Waldron and Derek Willis | "The NYPD Files" | ProPublica (with contributing reporting from The City) |
| 2020 | Kyle Hopkins | "Lawless" | Anchorage Daily News |
| 2019 | Gary Harki | "Jailed in Crisis" | The Virginian-Pilot |
| 2018 | Topher Sanders and Ben Conarck | "Walking While Black" | ProPublica, Florida Times Union |
| 2017 | Jennifer Bjorhus and Kelly Smith and the investigative team | "A Cry for Help" | Minneapolis Star Tribune |
| 2016 | Ken Armstrong, T. Christian Miller | An Unbelievable Story of Rape | The Marshall Project, ProPublica |
| 2015 | Brad Heath | "Fugitives Next Door" | USA TODAY |
| 2014 | Reporter Megan O'Matz and Database Editor John Maines | "Cops, Cash, Cocaine" | South Florida Sun Sentinel |
| 2013 | Ryan Gabrielson | "Broken Shield" | Center for Investigative Reporting's California Watch |
| 2012 | Gina Barton | "Both Sides of the Law" | The Milwaukee Journal-Sentinel |
| 2011 | Cris Barrish |   | The News Journal |
| 2010 | Mark Puente |   | The Plain Dealer |
| 2009 | Karyn Spencer |   | Omaha World-Herald |
| 2008 | Jonathan Schuppe |   | The Newark Star-Ledger |
| 2007 | Robert Rogers |   | The Sun |
| 2006 | John Diedrich |   | Milwaukee Journal Sentinel | Related Stories |
| 2005 | Amber Hunt Martin |   | Detroit Free Press |
| 2004 | Del Quentin Wilber |   | Baltimore Sun |
| 2003 | Stacy Finz |   | San Francisco Chronicle |
| 2002 | Stephanie Warsmith |   | Akron Beacon Journal |
| 2001 | Brigid O'Malley |   | Naples Daily News |
| 2000 | Tom Searls |   | Charleston Gazette |
| 1999 | Sean Gardiner |   | The Florida Times-Union. |
| 1998 | Mark Truby |   | The Huntington Herald-Dispatch |
| 1997 | Andy Furillo |   | The Sacramento Bee |
| 1996 | Pamela Hill |   | Northwest Arkansas Times |
| 1995 | Melvin Claxton |   | Virgin Islands Daily News |
| 1994 | William Hermann |   | The Arizona Republic |
| 1993 | J.D. Mullane |   | Bucks County Courier Times |
| 1992 | Scott Bowles |   | The Detroit News |
| 1991 | Diana K. Sugg |   | The Sacramento Bee |