CoTwins is a research study at the Institute for Behavioral Genetics at CU Boulder. CoTwins is funded by the National Institutes of Health and overseen by the University of Colorado
Institutional Review Board, an independent board of science and ethics experts who ensure the protection and safety of participants within the study. The primary purpose of CoTwins is to use new technologies to understand adolescents, their development, and behavior. In CoTwins we focus on twins, who provide a powerful and exciting way understand how our genes and environment interact to make us who we are.
This website is under construction and will continue to grow in the coming years. Currently, it's primary purpose is to be a place where participants (and others) can learn about study progress and refer to Frequently Asked Questions from other participants about the study.
Areas of Research Within CoTwins
Traditional Health and Psychological Assessments: Just like in many research studies around the country, CoTwins uses an in-person interview with adolescents and their parents to take a snapshot of the adolescent's physical and mental health. These interviews will provide a rich set of data to characterize adolescents in today's world, including their strengths, challenges, and resilience. These data will also serve as a baseline reference to understand information gathered through more novel means, including online and real-world environment.
Online Environment: As recent as a few decades ago most individuals referred to encyclopedias, newspapers, friends, or the TV to gather information about their world. Today the primary source most people turn to is the internet, including proper websites and social media. This is especially true for adolescents. In CoTwins we investigate internet use and how it may or may not relate to real-world behavior at school or at home.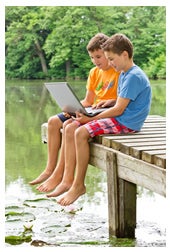 Real-world Environment: The environments in which we live have major influences on our lives, opportunities, and the decisions we make. Where we live, work, and play says a lot about our daily lives, habits, and environment. In the past, researchers would often focus on a single location: home address. Cross-referenced with census and other geographical datasets, home address gives an immense amount of information about the social and natural environment in which one lives. Today we can do much better. Just like many businesses and for-profit services use smartphone-enabled GPS service, researchers are now taking advantage of the same technology to understand our environment and how it impacts adolescent development.
Repeated Assessments: A major goal of CoTwins is to understand how youths change during adolescent development, and how our genes and environment contribute to that change. The best way to measure change is to check in often with participants over time. We do this through brief weekly questions, which will help us understand participant's highs and lows, major life transitions, and so forth over the course of the year. We will link these question responses to the environmental information we collect, resulting in an extremely powerful research study of how and why youths change during adolescence.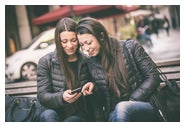 We sincerely thank all our participants for making this research possible. Your contributions to the study are essential to advancing knowledge in these areas. The study has officially launched as of April 1st 2015, so please check back often!
Privacy in CoTwins
Some participants in the study may use the CoTwins Android smartphone application. Note that the privacy policy pertinent to this app (and all data collection in this study) is described in the Consent Form that outlines all information related to consenting in the study. The consent form outlines data to be collected (including survey responses and location information) and how that data would be used and shared. In short, data are used for research purposes by the investigator team, and may be shared in a de-identified format with researchers from other Universities.
Data collection and use of these data are described in the consent forms, linked here, one for our participants who are currently 17, and one for participants 18 or older.
For Participants
Download the CoTwins iPhone app. 
Download the CoTwins Android app. 
Download the CoTwins Chrome extension.
For technical difficulties, comments, questions, or concerns please contact Amy Ledbetter at Amy.Ledbetter@colorado.edu.