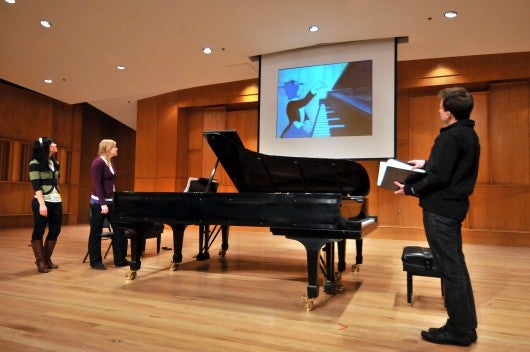 The College of Music at the University of Colorado at Boulder hosted its first competition dedicated specifically to collaborative music-making: So You Think You Can Collaborate? Saturday, January 22 at 7:30 p.m. in Grusin Music Hall. The winners of the competition were Forty Fingers of Fury (Allan Armstrong, Laura Brumbaugh, Doreen Lee and Sunyoung Lee, pianos with Owen Zhou, technical guru). Second prize was awarded to the Cold Quartet (Ryan Wurst, laptop, Hannah Darroch, flute, Jessica Lindsey, bass clarinet and Mollie Wolf, dancer).
The most significant and innovative feature of the competition is that participants must consider the audience to be part of the collaborative process. This means that their presentation must not only include a high-level collaborative performance, but must include some component that engages the audience – be it speaking, technology, dance, as a few examples – with the goal of enhancing the audience's appreciation, enjoyment and understanding of the musical performance. Much time has been spent discussing the classical music industry's need to revitalize its audiences, and this is a competition that will reward performers who do just that.
And perhaps most exciting of all: The winners are determined by an audience vote! After all, they're the best judges of which performers were most engaging!
Special thanks to the College of Music's performing departments, who are providing the funds for the award money for this inaugural competition.
Organized and directed by Alexandra Nguyen, Assistant Professor of Collaborative Piano, the So You Think You Can Collaborate? competition is taking place as part of an international day celebrating collaboration, an effort spearheaded by the Music Teachers National Association as part of its Year of Collaborative Music 2010-2011.