CU Boulder offers 10-week summer research internships for rising juniors and seniors through the Summer Multicultural Access to Research Training (SMART) program. The program aims to improve access to STEM research for students from groups underrepresented in science, math and engineering, including racial/ethnic minorities, first-generation college students, Pell grant recipients, individuals with disabilities, and students who have overcome significant challenges in pursuit of higher education.
The SMART program prepares students to become competitive applicants for doctoral programs nationwide by pairing them with faculty who, along with other personnel in their labs, mentor them through an authentic research experience. This year, ATLAS Institute's ACME Lab, directed by professor Ellen Yi-Luen Do, hosts two students through the SMART program, Sergio Bustamante and Ignatius Nwankwo (see the full list of 2023 mentors and mentees at CU Boulder).
Sergio Bustamante explores printed paper circuits
Sergio expects to graduate University of Florida next spring with a B.S. in electrical engineering. What started as a youthful obsession with Lego has translated into expertise in coding and a desire to design circuits and build prototypes. He also has an interest in making music, which led to his research work at ATLAS.
Sergio is building a music production tool using the Fabricating Paper Circuits techniques developed by fellow ACME Lab members Ruhan Yang (ATLAS ACME Lab member, PhD student), and Krithik Ranjan (ATLAS ACME Lab member, PhD student), and the folded paper button technology and Sensing Kirigami carbon coated paper technique developed by fellow ACME Lab members Clement Zhang, postdoctoral research associate, and Peter Gyory, PhD candidate. 
He details his process: "I'm designing a paper tangible interface and keyboard. A lot of the techniques are ways to make interfaces that you can move, you can manipulate, you can press down, you can switch—just out of paper."
"I've never designed a MIDI controller nor have I even owned one. So making one, I had to do extensive research and because of that it's been a process of trial and error. Always plan for things to take a bit longer than you anticipate—that's the thing that I've learned."
Ignatius Nwankwo researches accessible animation tools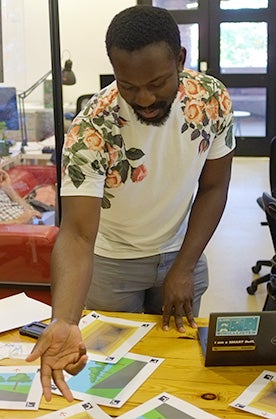 Ignatius is a rising junior at Morgan State University majoring in electrical engineering with proficiencies in coding and an interest in game development. In his spare time, he has worked on developing a 2D platformer action game. 
Ingatius says, "Since I was a kid, I was always interested in how electronics worked. I wanted to learn the underlying technologies behind things like game consoles and remote controls." 
At ATLAS, his research augments PhD student Krithik Ranjan's Cartoonimator project, a low-cost, paper-based kit for children to create animations and engage with computational thinking without the need for expensive equipment. The tool empowers children to draw scenes on paper and animate them with a simple smartphone app. Ignatius has written code to allow young animators to shrink and grow sprites as if they are coming to or moving away from the viewer, a sort of 3D effect in a two-dimensional environment. He is also working on features for changing camera angles and backgrounds and adding dialog bubbles.
Ignatius explains, "There are two types of sheets—backgrounds and characters. You can draw whatever you want on them and when you arrange them together, you get something called a key frame. When you have multiple key key frames and you combine them together using the app, you get a smooth animation between the two points."
In addition to adding a new programming language to his repertoire, Ignatius says he has learned to ask for help and improved his ability to collaborate with a team, vital skills in the lab and in the workforce.
Revealing their final research
Just before their time at ATLAS concludes, Sergio and Ignatius will fly to Hartford, Connecticut, to attend the Leadership Alliance National Symposium, a conference offering skill-building, networking and professional development opportunities for undergraduates. There they will have the chance to show their research in a poster session in addition to attending workshops on navigating graduate programs, participating in a recruiting fair and meeting leaders in their field. 
Then in their last week back in the ACME Lab, Sergio and Ignatius will deliver papers and present their final projects in the SMART program poster session. 
A SMART approach
Professor Do notes that CU Boulder has two major functions: to disseminate knowledge (teaching) and to generate knowledge (research). Most undergraduate students only take courses to gain knowledge, and are not part of generating knowledge through research. They may not even see what it's like to be a graduate student working in a research lab.
She reflects, "As a person of color working in engineering, and often the minority representative in meetings, I know first-hand what it feels like to be in the underrepresented group. I like hosting SMART students at ACME Lab as it's important for undergraduates to learn to work with graduate students through hands-on experience in conducting research. It's also an opportunity for graduate students to mentor others. Learning and teaching enhance the growth of knowledge and understanding."
Diversity in research is essential for expanding the whole of human knowledge. At ATLAS, we're excited to continue to participate in SMART and other programs aimed at achieving this goal.