Jacqueline Avila Online Talk
"Sombra's Soundscape: Music, Silence, and Nostalgia in Alonso Ruizpalacios's Güeros (2014)"
Online on Monday, April 6, 2020
2:00 p.m  |  Free Zoom Call, Open to Everyone
Please Note 
For access to Jacqueline's recorded Zoom presentation, please e-mail Eric Hansen at eric.a.hansen@colorado.edu.
This presentation navigates through the eclectic soundscape that shapes Mexico City and its ties to contemporary Mexican national identity and Mexican national cinema of the past. While displaying characteristics of the road movie genre, Alonso Ruizpalacios's Güeros (2014) supplies a new musical paradigm for understanding aural constructions of both Mexico City and the changing identity politics taking place on and off the silver screen.
Jacqueline Avila is Associate Professor in Musicology at the University of Tennessee. Her research focuses on film music and sound practice from the silent period to present, and the intersections of cultural identity, tradition, and modernity in the Hollywood and Mexican film industries. Dr. Avila was the recipient of the UC MEXUS Dissertation Research Grant, the American Musicological Society's Howard Mayer Brown Fellowship, the UC MEXUS Postdoctoral Fellowship (2014-15), and the University of New Mexico's Robert E. Greenleaf Visiting Library Scholar Award (2016). Her publications can be found in the Journal of Film Music, Latin American Music Review, Opera Quarterly, and the Oxford Research Encyclopedia of Latin American History.  Dr. Avila is the author of "Cinesonidos: Film Music and National Identity During Mexico's Época de Oro."
Güeros, described by Filmmaker Magazine as a "wry, visually audacious film" is the winner of the Best First Feature award at the 2014 Berlin International Film Festival, the Best Cinematography award at a recent Tribeca Film Festival, and was nominated to 12 Ariel Awards (Mexico's top film award). Beautifully shot in black-and-white (and in 4:3 aspect ratio), this coming-of-age comedy pays homage to the French New Wave (the director names Monte Hellman's Two-Lane Black Top and Godard's Bande A Part as key works) and American indie cinema (such as works by Jim Jarmusch), proving once again, the global reach of contemporary Mexican cinema.
This presentation is sponsored by the AMRC and the Department of Cinema Studies and Moving Image Arts.
---
Cancelled - George Lynn
The Minimalist 
Friday, April 17, 2020
4:30 p.m  |  St. Aidan's Episcopal Church
2425 Colorado Avenue, Boulder, CO
Free and open to the public
A concert including: 
Izzy Fincher
George Lynn: "Deploration" 
                         "Violin alone"
J.S. Bach: "Cello Suite No. 1"
Ikigai Duo
George Lynn: "Cantabile for Oboe and Piano" 
                         "Pastorale" and "Dialogue" from "Six Duets for Flute and Bassoon"
Astor Piazzolla: "Histoire Du Tango:" Bordel 1900, Café 1930, Nightclub 1960 and Concert d'aujourd'hui
---
Persevering Legacy Concert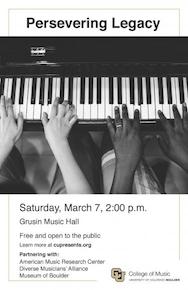 Saturday, March 7, 2020
2:00 p.m  |  Grusin Music Hall in Imig Building, CU Boulder Campus
Free and open to the public
In celebration of Women's History Month, the College of Music presents "Persevering Legacy," a student concert that elevates stories of historically marginalized, diverse female composers to align classical music with social activism.  The concert will feature student performances of music from the American Music Research Center's Hellen Walker-Hill collection and other female composers. Before the concert, starting at noon, join us for a workshop with members of the Museum of Boulder's Inclusipedia project. This hands-on learning experience gives volunteers the necessary skills for creating and editing Wikipedia pages to add women and people of color from Boulder's past and present to the website.
Ths concert will feature performances by students Isabella Fincher, Asha Romeo, Dianna Link, Claire Gunsbury, Pedro d'Avila, Reina Krumvieda, Randel Leung, Brice Smith, Gleyton Ladislau, Seth Bixler, Conrad Sclar, Ethan Blake, and Indigo Farmer.
---
Public Talk with Dr. Daniel Party
"The uses of Víctor Jara in Chilean Social Movements (2009-2019)" 
Monday, February 3, 2020
2:00 PM | CASE Building room E351, CU Boulder Campus
Free and open to the public
As has been widely noted, the Chilean social uprising of October 2019 had as an unofficial anthem Víctor Jara' song "El derecho de vivir en paz". To understand the significance of this gesture, in this presentation we trace the ways in which Jara and his music have been used in Chile since 2009. This diachronic approach allows us to foregrounds important shifts in Chilean leftist activism of the last decade.
Danile Party is a scholar of popular music (Ph.D. University of Pennsylvania) whose main research interests are music under dictatorship, U.S. Latino music and migration, and gender studies.  Dr. Party is Associate Professor at Pontificia Universidad Católica de Chile.
He has published and presented widely on the uses and value of popular music for people living under authoritarian regimes, particularly under Pinochet's Chile and Franco's Spain. While most research on popular music and dictatorship deals with either state-sponsored music or protest songs, his focuses on mainstream musics and musicians that remained detached from party politics.
His work on U.S. Latino popular music has focused on the impact of the Miami-based music industry and on migrant communities' use of music as a "cultural remittance."
---
Christmas Pictures
With the Broomfield Symphony Orchestra
Saturday, December 14, 2019 at 7:30 PM and
Sunday, December 15, 2019 at 3:00 PM
Broomfield Community Auditorium
Broomfield Symphony Orchestra presents Christmas Pictures, featuring three rare, early 20th century Christmas-themed silent films arranged by Rodney Sauer.  Also on the program is Corelli's Christmas Concerto, selections from Tchaikovsky's Nutcracker ballet and Humperdinck's Hansel and Gretel, all conducted by Broomfield Symphony Music Director David Brussel.  
Tickets $4 - $22 at the door or online. Call 303-718-0551 for more information. The Broomfield Symphony is partnering with Broomfield FISH to collect food items for this concert! Bring a food item to the concert and you'll receive a $2.00 discount on your ticket at the door. 
The AMRC is home to several prominent silent film score collections. For more information about these collections and to gain access to many of their scores and materials please visit here.
---
Phantom Carriage
A Silent Film featuring live music by the Mont Alto Motion Picture Orchestra (dir. by Rodney Sauer)
Sunday, November 17, 2019
2:00 PM | Muenzinger Auditorium, CU Boulder Campus
Free and open to the public
Hosted by the American Music Research Center and the International Film Series in celebration of the recent Grauman Theater Collection gift by Rodney Sauer.
The last person to die on New Year's Eve before the clock strikes twelve is doomed to take the reins of Death's chariot and work tirelessly collecting fresh souls for the next year. So says the legend that drives The Phantom Carriage (Körkarlen in Swedish), directed in 1921 by the father of Swedish cinema, Victor Sjöström. The story, based on a novel by Nobel Prize winner Selma Lagerlöf, concerns an alcoholic, abusive ne'er-do-well (Sjöström himself) who is shown the error of his ways, and the pure-of-heart Salvation Army sister who believes in his redemption. This extraordinarily rich and innovative silent classic (which inspired Ingmar Bergman to make movies) is a Dickensian ghost story and a deeply moving morality tale, as well as a showcase for groundbreaking special effects.
The Mont Alto Motion Picture Orchestra will perform a score drawn from the Grauman Theater Collection to accompany the film.  This early fantasy/horror film, directed by Victor Sjöström, is notable for its special effects and is considered to have been a key influence on The Shining.  It's a great vehicle for an exiting musical experience. 
---
Cantabile
A Place to Return To
Friday, November 8, 2019 at 7:30 pm
Sudnay, November 10, 2019 at 3 pm
First Congregational Church, 1128 Pine Street, Boulder

---
African American Music-At the Crossroads 
With Dr. Dwandalyn R. Reece, Dom Flemons and Friends
Tuesday, November 5, 2019
Chancellor's Auditorium, CASE Building on CU Boulder campus
Free and Open to the Public
4:30  At the Crossroads: African American Music-Making in American Life
A talk by Dr. Dwandalyn R. Reece, Smithsonian National Museum of African American History and Culture
Drawing upon objects in the National Museum of African American History and Culture's collection, where she is Curator of Music and Performing Arts, Dr. Dwandalyn R. Reece will present, "At the Crossroads: African American Music-Making in American Life," an exploration of how objects deepen our understanding of music in the United States, offering new ways to construct narratives about the social, cultural and historical meaning music holds in our daily lives. The ways we engage with music is constantly evolving and the multiple worlds that music inhabits is a culture unto itself.  Within this movement to document, preserve and interpret music's existence, is a growing interest in music's material culture, the tangible objects that are the material evidence of its existence.
5:30  Black Banjo & Beyond Roundtable
A discusion with Dr. Dwandalyn R. Reece, Dom Flemons, Johnny Baier, and Otis Taylor
In conjunction with Dr. Reece's preceding talk and the Trance Blues Jam Festival taking place on November 9, 2019 at eTown Hall, the AMRC will present, Black Banjo & Beyond Roundtable, a discussion with Dr. Dwandalyn R. Reece, Dom Flemons ("The American Songster," Grammy Award winner, and founding member of the Carolina Chocolate Drops), Johnny Baier (Executive Director of the American Banjo Museum), and Otis Taylor (Roots Music Visionary and founder of the Trance Blues Festival in Boulder, now in its 9th year).
Photo: (left to right) Dr. Dwandalyn R. Reece, Dom Flemons, Johnny Baier, and Otis Taylor
---
Cuban Music with Luis Barbería 
Wednesday, November 6, 2019 at 3pm
Chancellor's Auditorium Reception Area, CASE Building on CU Boulder campus
Free and Open to the Public
Limited Seating
A founding member of the legendary Cuban collective Habana Abierta, guitarist, composer, producer, and arranger Luis Barbería is known for his intricate guitar work and his innovative usage of Afro-Cuban rhythms and his reinvention of  classic Cuban genres such as bolero and rumba.  As a solo artist, he has produced three albums including A Full, which won best record in the fusion category in Cuba's national music awards, Cubadisco.  His most recent album, Fuerza y Luz, was released in October 2018.  
---
No-No Boy in Concert
With Julian Saporiti and Emilia Halvorsen
Friday, October 11, 2019
7:30 pm | Grusin Hall, Imig Music Building on CU Boulder campus
Free and open to the public
This performance is sponsored by a grant from the Roser Visiting Artist Endowment
NPR has described No-No Boy as"An act of revisionist subversion." 
NY Music Daily wrote after that "Saporiti's tunesmithing ranks with any of the real visionaries of this era."
No-No Boy is an immersive multimedia work combining original folk songs, storytelling, and projected archival images, bridging a divide between art and scholarship. Taking inspiration from his own family's history living through the Vietnam War, as well as interviews with World War II Japanese Incarceration camp survivors and other stories of Asian American experience, Nashville born songwriter Julian Saporiti has transformed years of doctoral research at Brown University into an innovative concert / dissertation, all in an effort to bring this work to a broader audience.
2018 saw the release of the first No-No Boy album 1942 and an ambitious national tour which largely focused on sharing the collection of songs Saporiti had written about WWII Japanese American Incarceration and the links he saw between that history, his family story and today's immigration policies. In the spring of 2019, Saporiti expanded the project's scope, embarking with longtime collaborator and photographer Diego Luis and their Brown colleague Juan Betancourt on a trip to the Mexican border. Playing concerts for asylum seekers and aid workers in Laredo, Crystal City (former home of a WWII Internment Camp), and Dilley, TX (current home to the largest family detention center), the experience was jarring, impactful and created an eery sense of deja-vu, walking through and making music amongst overlapping histories, surrounded by lessons seemingly unlearned. 
---
Public Talk with Julian Saporiti 
"Transforming Scholarship Into Song"
Monday, October 7, 2019
2:00 pm | Music Theater in the Imig Music Building on CU Boulder campus
Free and open to the public
This talk is sponsored by a grant from the Roser Visiting Artist Endowment
Doctoral candidate Julian Saporiti will discuss how his dissertation project at Brown University "No-No Boy" which examines musical cultures of transpacific and Asian refugee communities has turned into a multimedia work incorporating film, photography, museum curation and songwriting. Saporiti will show a short film about about jazz in Japanese American Incarceration Camps as well as perform a couple of original songs inspired by his research and discuss his process. He will be joined by one of his collaborators Emilia Halvorsen who will also discuss how she has added embroidery and costume design into the project. 
---
McIntosh County Shouters
Presented by NAACP Boulder County
Sunday, June 23, 2019
2:30 - 5:30 pm | Macky Auditorium on CU Boulder campus
Free (with registration) and welcoming to children and families
Tickets: http://bit.ly/MCSnaacp
On Sunday afternoon June 23, 2:30 pm, the NAACP Boulder County will present the McIntosh County Shouters at Macky Auditorium. Seeing them perform at Macky is a once in a lifetime occurrence as members are aging, dwindling in numbers, and their Gullahah Geechee way of life is disappearing. Condos and high rise buildings are replacing the farm and coastal areas of their once quiet island off the coast of Georgia.
The McIntosh County Shouters are Master Artists of the Ring Shout, a nearly extinct art form carried to the United States by enslaved Africans. The Ring Shout is the oldest known African American performance tradition remaining on the North American continent. It is a historical narrative expressed in the oral tradition of sound, song, and movement, a unique fusion of dance, song, and percussion. 
---