Career Planning:
Women and Gender Studies majors are qualified for a wide range of challenging and rewarding careers. Our students have gone on to careers in fields such as law, medicine, government, public health, public policy, social work, teaching, counseling, advocacy, media, public relations, education, politics, fundraising, small business development, librarianship, and arts administration. With the critical thinking, writing, speaking, and leadership skills you have learned in your studies here, you can help Change the World!
Check out what some of our alums are doing with their degrees here.
Here are some sources to start looking for your ideal job:
Graduate Students:
UNICEF offers the New and Emerging Talent Initiative (NETI) program for those interested in an international career with UNICEF: https://www.unicef.org/careers/ as well as a job board: www.unicef.org/about/employ
Finding opportunities through CU's Career Services: www.colorado.edu/career/finding-opportunities
Graduate School:
A degree in Women and Gender Studies prepares you for a number of different graduate degree options. You can earn an M.A. or Ph.D. in Women and Gender Studies, or use what you've learned to earn graduate degrees in fields like Law, Business, Medicine, Sociology, Anthropology, International Affairs, History, Philosophy or Social Work – just to name a few!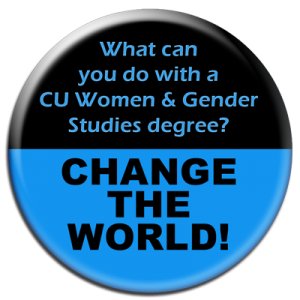 Here's some great advice on applying for graduate schools: