Professor Kristie Soares will deliver the inaugural AMRC Counterpoints Lecture, exploring the evolution of Celia Cruz's signature catchphrase azúcar [sugar] from her early career with Fania Records, to her later music with Sony Music, and finally to its posthumous adoption by queer fans of color both at her funeral and in the aftermath of the 2016 Pulse Nightclub massacre.
Read more about Dancing With Death: Celia Cruz's Azúcar and Queer of Color Survival
WGST Faculty 2020: L. Kaifa Roland, Maisam Alomar, Lorraine Bayard de Volo, Robert Buffington, Emmanuel David, Janet Jacobs , Samira Mehta, Deepti Misri, Celeste Montoya, Kristie Soares & Robert Wyrod
The Department of Women and Gender Studies (WGST) faculty aim to foster students' critical thinking skills in a learning environment that is supportive and challenging. In the workplace, the media, popular culture, politics, and even academia, we are confronted with stereotypes and one-dimensional representations of gender, race, class, nationality and sexuality. Accordingly, WGST faculty encourage students to critically engage with course materials and with the world around them, and we provide them tools to do so. We believe such skills are the prerequisites for enhancing the equality, dignity, and empowerment that we value.

 

Faculty research is an essential component in the educational experience of our undergraduates. WGST students receive instruction from faculty who are actively engaged in the creation of new knowledge and insights, not merely passive recipients of the work of others. Our faculty have been awarded research grants and fellowships from the National Endowment for the Humanities, Fulbright, the National Science Foundation, and the United States Institute of Peace.
WGST Advising

Use
BuffPortal
to see current walk-in hours and schedule appointments.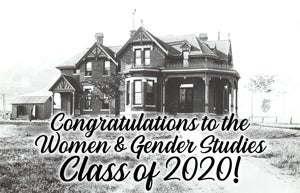 The Department of Women and Gender Studies welcome you to celebrate our WGST Class of 2020! Visit our Virtual Yearbook page for a special video and website honoring our graduating majors, minors, and certificate students, as well as the recipients of our WGST scholarships and awards.
Established in 1974 as the Women Studies Program, it is also one of the oldest of its kind in the nation.
Founded in 1975, Frontiers is one of the oldest and most respected academic feminist journals in the United States.
Our core faculty include Professors of Distinction, and recipients of Best Should Teach award, Hazel Barnes prize, Kayden Book award and more.