CU at the Polls is an event for young voters who are interested in learning more about important government policies and the upcoming presidential election. The voter registration event will take place virtually on Oct. 19. The event will feature a student-led Q&A with Ilana Glazer where students will have the opportunity to ask questions. The Q&A will be followed by a performance by Princess Nokia. The event will start at 7 p.m. MDT. Admission is free for CU Boulder students; students can register for the event online. The link for the event will be sent to all registered students on the morning of the event. 
Ilana Glazer
Ilana Glazer is best known for writing, directing, producing and starring in Broad City, one of Comedy Central's most popular shows. She was nominated twice for the Critics' Choice Television Award for Best Actress in a Comedy Series for her role in Broad City. Glazer is also known for her role in Rough Night, a comedy film released in 2017.
Glazer was born and raised in St. James, New York. She began acting when she started taking classes at the Upright Citizens Brigade Theatre in 2006. From there, she began shooting Broad City as a web series with Abbi Jacobson before the show was purchased by FX for Comedy Central. Glazer's most recent work is her debut stand-up special The Planet is Burning, which was released on Amazon Prime in January 2020.
Princess Nokia
Destiny Nicole Frasqueri, more popularly known as Princess Nokia, is an alternative hip-hop and R&B artist and songwriter. Princess Nokia is known for her hit songs "I Like Him" and "Tomboy," from her albums Everything Sucks and 1992 Deluxe.
Princess Nokia began creating music in 2010 under the name Wavy Spice. She released her first song "Destiny" on Soundcloud in 2010, as well as "Bitch I'm Posh," which ended up going viral and amassing over 170,000 plays. Her two latest albums are Everything Sucks and Everything is Beautiful, which were both released in February 2020.
Program Council
The University of Colorado Program Council is a student-run department of the Center for Student Involvement funded entirely by student fees allocated through the University of Colorado Student Government. Program Council provides affordable, high-quality, face-rocking entertainment and professional event support for the Boulder campus community.
From The PC Monthly, issue No. 6
Employee spotlight: Lizzie Kennard
Position in Program Council? 
Office manager
What year are you?
Senior
Major?
Psychology and EBIO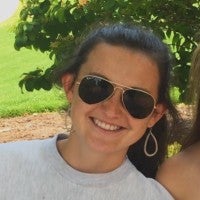 Where are you from? 
Wilton, Connecticut
Favorite album of the year?
Gaslighter by The Chicks
Favorite film of the year?
Little Women
Food you love/food you hate?
Love sandwiches, hate black pepper
Most beautiful place you've been?
Machu Picchu
Favorite TV show?
Grace and Frankie
Favorite movie theater snack?
Sour Patch Kids
When are you the happiest?
When I'm wandering outside with my friends
Artist spotlight: 100 Gecs
​100 Gecs is an experimental music duo comprised of friends Dylan Brady and Laura Les. Brady, based in L.A., and Laura, based in Chicago, shoot Logic Pro files back and forth to create each of their cra zy songs. Their music is electric, loud, fast-paced, energetic and reminiscent of nightcore with its uniquely auto-tuned and high-pitched sound. Their first EP 100 Gecs was released in 2019, and it featured hits such as "money machine," "hand crushed by a mallet," "stupid horse" and "ringtone." 
100 Gecs' first live performances were for Brockhampton's Heaven Belongs to You tour in 2019. After touring with Brockhampton, 100 Gecs headlined six additional shows that year. They released their most recent album 1000 Gecs and The Tree of Clues in July of this year, which featured remixes of their songs from 1000 Gecs. This album featured a remix of their song "ringtone" with Charlie XCX, Rico Nasty and Kero Kero Bonito. 
Program Council is hiring
Program Council is hiring several positions for the fall semester, including: an assistant director, film series director, Old Main director, promotions director, business director, production crew and security crew. Learn more and apply.
---