University of Colorado Law School Professor Sarah Krakoff has been named the 2018 recipient of the Hazel Barnes Prize, the most distinguished award a faculty member can receive from the university.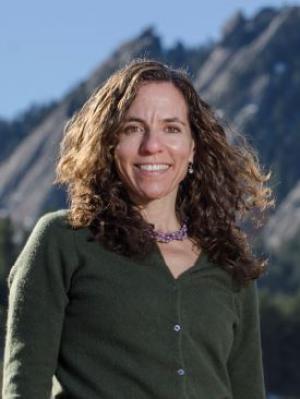 Since 1992, the Hazel Barnes Prize has been awarded each year to a CU Boulder faculty member who best exemplifies the enriching interrelationship between teaching and research and whose work has had a significant impact on students, faculty, colleagues and the university.
Krakoff is the Raphael J. Moses Professor of Law at Colorado Law. Her areas of expertise include American Indian law and natural resources and public land law, as well as environmental justice.
Assisting indigenous communities remains central to her work and scholarship. She leads Colorado Law's Acequia Assistance Project, which offers free legal services for low-income farmers in the San Luis Valley of Colorado. Her seminar, The Law of the Colorado River, concludes with a rafting trip on the Colorado River through the Grand Canyon.
Krakoff has published multiple works about the areas of interest near to her heart, including American Indian Law: Cases and Commentary, co-authored with Bob Anderson and Bethany Berger; Tribes, Land and Environment, co-edited with Ezra Rosser; and articles in the Stanford Law Review, California Law Review, as well as other law journals. She also regularly authors or co-authors amicus briefs in American Indian law and public lands cases in federal courts throughout the country and serves on the board of trustees of the Grand Canyon Trust.
Before joining the Colorado Law tenure-track faculty in 1999, Krakoff directed the American Indian Law Clinic and secured permanent university funding to ensure the clinic's future.
Krakoff earned a bachelor's degree from Yale University and a juris doctor from the University of California, Berkeley. She began her legal career at DNA-Peoples Legal Services on the Navajo Nation, where she initiated its Youth Law Project with an Equal Justice Works fellowship.
The prize, which will be presented at spring commencement, includes a $20,000 cash award and an engraved university medal.
The prize was established in honor of renowned philosophy Professor Emerita Hazel Barnes, who taught at CU Boulder from 1943 to 1986 and who passed away in 2008.
Colorado Law Professor Charles Wilkinson received the Hazel Barnes award in 2002.
Learn more about the Hazel Barnes Prize and view a list of past recipients.