Next week, the city of Boulder and the University of Colorado Boulder will step up enforcement of the city's traffic laws in and around several of Boulder's top locations for motor vehicle collisions involving a bicyclist or pedestrian as part of the Heads Up Boulder crosswalk safety campaign.
The campaign begins Monday, April 24, and lasts through Friday, April 28. Officers from both CU and the city will be at intersections around the CU campus.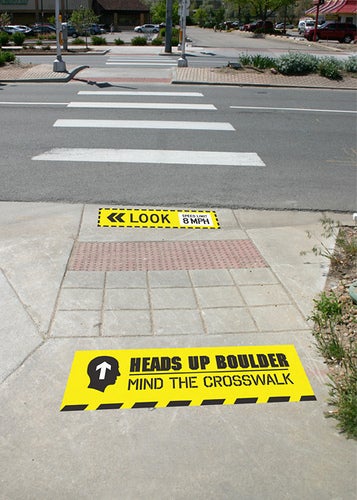 Data collected by the city shows nearly half of all collisions within the city occur at intersections, and that crosswalks are the most common locations for collisions between motor vehicles and bicyclists or pedestrians. Eight percent of traffic collisions in Boulder involve a bicyclist or pedestrian, and these collisions account for 60 percent of serious injury and fatal collisions.
The city of Boulder website notes, "This finding isn't surprising if you consider that crosswalks are where vehicles, pedestrians and bicyclists literally 'cross paths' the most."
Throughout the campaign, the city and CU Boulder police officers will focus enforcement efforts at select high-collision intersections and crosswalks near campus, and each day police will be joined by Heads Up ambassadors who will distribute educational material, coupons and small gifts to reinforce the Heads Up Boulder safety message.
Officers will be enforcing the three crosswalk-safety ordinances, requiring:
Pedestrians and bicyclists to activate the flashing lights at crosswalks before entering the road or face a $50 fine,
Bicyclists to slow to 8 mph or less as they approach, enter and traverse a crosswalk at all intersections or face a $50 fine, and
Drivers approaching a crosswalk to stop and wait for a crossing pedestrian, or face a $125 fine and receive four points on their driving records.
"This is an opportunity to remind everyone, including students, that improving pedestrian and bicyclist safety is an important priority," CU Police Chief Ken Koch said.