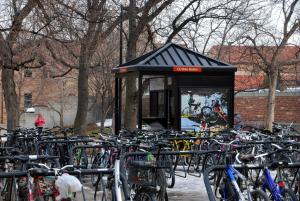 The League of American Bicyclists has recognized the University of Colorado Boulder with the Gold Bicycle Friendly University℠ (BFU) award, placing CU Boulder with 18 other gold-level bicycle-friendly universities.
The league is leading the movement to create a bicycle-friendly America for everyone. CU Boulder joins a cutting-edge group of colleges and universities across the U.S. transforming their campuses and the communities around them. There are now 164 BFUs in 44 states and Washington, D.C. 
"In its fifth year, we've seen the Bicycle Friendly University program's momentum continue to grow and reach even more campuses across the country," said Bill Nesper, programs director.
"We applaud this round of BFUs for raising the standard and being innovative in making bicycling a safe, convenient and enjoyable option for students, staff and visitors alike."
When colleges and universities invest in bicycling, great things happen, such as: decreased carbon footprint, decreased need for parking and increased use of sustainable transportation options to and from campus.
UMC and Folsom Bike Stations now open
Both stations have reopened for spring and will be available 9 a.m. to 5 p.m., Monday through Friday. Hours are subject to change due to inclement weather.
CU Boulder strongly encourages bicycling and strives to get all affiliates out of cars and into a more sustainable mode of transportation, such as on a bike, bus, carpool, skateboard, by foot or some combination.
Being a bike-friendly university has given students and faculty of the University of Colorado Boulder easy options for traveling via bicycle. It provides amenities such as bike stations (for no additional cost), bike repairs, rentals, registration, secured storage and information about B-cycle bike-share stations on campus.
Moving forward, CU also will have access to a variety of free tools and technical assistance from the League of American Bicyclists, which will help the university become even more bicycle friendly.
To apply or learn more about the free BFU program, visit the League of American Bicyclists website.