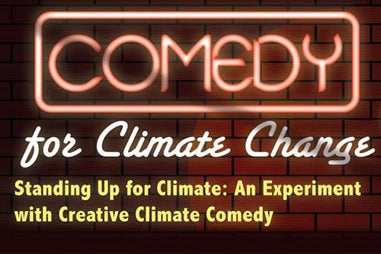 Humor is a tool underutilized in the area of climate change; yet comedy has power to effectively connect people, information, ideas and new ways of thinking and acting.
Seeking to harness the powers of climate comedy through compelling, resonant and meaningful videos to meet people where they are and open them up to new and creative engagement, CU Boulder's Inside the Greenhouse project has initiated a short-video competition.
The winning entry will receive a cash prize and be shown during the upcoming Stand Up for Climate: An Experiment with Creative Climate Comedy night on March 17 on the CU Boulder campus. The event will feature a range of comedic approaches, including stand-up comedy, sketch and situational comedy, and improv.
Successful entries will have found the funny while relating to climate change issues. Pieces that deal with issues related to the American West will be especially well received. Each entry will be reviewed by a committee composed of CU Boulder students, faculty and graduate students.
Videos must be no longer than three minutes in length. The primary audience will be university students and Boulder community members (no age restrictions).
If you enter
March 1:
Entries due to
itgcomedy@colorado.edu
March 13:
Applicants informed of decisions
March 17:
Winning entries shown at Climate and Comedy event
Entries are due Wednesday, March 1.
For more information, including eligibility and application requirements, please visit the Center for American West website. You can also contact associate professors Max Boykoff and Beth Osnes with questions.
This competition is co-sponsored by the Center of the American West and is associated with CU Boulder's spring 2017 creative climate communications course.