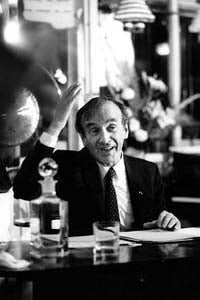 CU Boulder's Program in Jewish Studies and the Boulder Public Library are hosting an event on the late Elie Wiesel, featuring a lecture and special presentation, at 1 p.m. Sunday, Dec. 4, at the Boulder Public Library.
In 1959, Wiesel published Night, his literary recreation of surviving Auschwitz and Buchenwald, which has since been published in more than 30 languages. Seven years later, he published The Jews of Silence, which gave a language and moral authority to the global Save Soviet Jewry movement. In his lifetime Wiesel authored more than 60 books of fiction and non-fiction, received more than 100 honorary degrees from institutions of higher learning and numerous awards for his literary and human rights activities, including the U.S. Congressional Gold Medal and Nobel Peace Prize.
Kathryn Bernheimer, director of ACE: Arts, Culture, and Education at the Boulder Jewish Community Center (JCC), will start the event with a personal story of the iconic figure. Subsequently, CU Professor David Shneer will give a lecture exploring Wiesel's many legacies with a focus on his early years during the Cold War and the relationship between Holocaust survival, moral authority and political activism.
Shneer is the Louis P. Singer endowed chair in Jewish history; professor of history, religious studies and Jewish studies; and chair of CU's Department of Religious Studies. He is a distinguished lecturer for the Association for Jewish Studies and is co-editor in chief of the East European Jewish Affairs journal. His current projects include the musical revue Art is My Weapon: The Radical Musical Life of Lin Jaldati and book-in-progress Grief: The History of the World's First Holocaust Liberation Photograph.
If you go
What: "Elie Wiesel: Holocaust Survivor, Moral Authority, and Political Activist"
When: Sunday, Dec. 4, 1 to 2 p.m.
Where: Canyon Theater, Boulder Public Library, 1001 Arapahoe Avenue

Bernheimer is director of ACE: Arts, Culture, and Education and the cultural arts director at the Boulder JCC. In her past lives, Bernheimer was a PhD candidate in theater at CU, a film critic and feature writer for the Boulder Daily Camera, the Boulder correspondent for the Intermountain Jewish News, the host of the Denver Jewish Film Festival, a guest film programmer at the Mizel Center for Arts and Culture and the author of two books of film criticism, including The 50 Greatest Jewish Movies. She has been the MC of the Boulder Jewish Festival since its inception.
This lecture is free and open to the public. RSVPs are appreciated; please email CUJewishStudies@colorado.edu or call 303-492-7143 to register. For more information about this event, please visit the Program in Jewish Studies website.
The Program in Jewish Studies at the University of Colorado Boulder provides an outstanding liberal arts education, fosters critical thought and instills an appreciation of humanity's interrelatedness and diversity by studying one of the world's oldest global people. The program offers a BA in Jewish studies as well as minors in Jewish and Hebrew/Israel studies.