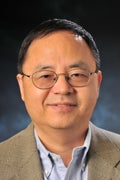 Fields:
Industrial Organization • Microeconomics
Current Research Interests: 
Vertical organization, price discrimination under imperfect competition, product differentiation, markets with search/switching costs, economics of innovation, international trade and organization.
Education:
PhD–Boston University
MA–People's University of China
BS–Zhejiang Institute of Technology, China
PhD, Boston University, 1992, is a professor with specialties in industrial organization and microeconomic theory. His current areas of research include vertical organization, price theory, consumer search, innovation and intellectual property, antitrust, and international trade. He is Managing Editor of International Journal of Industrial Organization and Associate Editor of RAND Journal of Economics. He previously served as Associate Editor of European Economic Review, Associate Editor of Quantitative Marketing and Economics, Associate Editor of Journal of Industrial Economics, and Editorial Advisor of Canadian Journal of Economics.