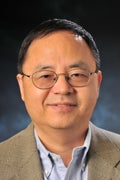 Fields:
Industrial Organization • Microeconomics
Current Research Interests: 
Vertical organization, price discrimination under imperfect competition, product differentiation, markets with search/switching costs, economics of innovation, international trade and organization.
Education:
PhD–Boston University
MA–People's University of China
BS–Zhejiang Institute of Technology, China
PhD, Boston University, 1992, is a professor specializing in industrial organization. His research, with more than 60 journal articles, has made contributions primarily in four areas: (1) pricing, especially on price discrimination by purchase history, the spokes model of production differentiation, price effects of entry, and product bundling; (2) vertical organization, especially on the competitive effects of vertical mergers; (3) Innovation economics, especially on how IP policies and market structure affect innovation; (4) markets with consumer search, especially on the role of search intermediaries. His more recent research studies the welfare effects of differential pricing, consumer search and competition under quality uncertainty or with repeat purchases, data protection regulation, and product liability. He is an associate editor of RAND Journal of Economics, and he served as a co-editor (2011-12) and managing editor (2013-19) of International Journal of Industrial Organization.