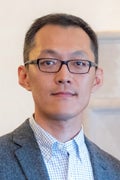 Fields:
Econometrics
Current Research Interests: 
Estimation of social and spatial interaction models; Structural estimation of games.
Education:
PhD–Ohio State University
MA–Ohio State University
BA–Fudan University
PhD, Ohio State University, 2007, is a professor whose research interests are in econometrics and applied microeconomics. His current research is focused on estimation methods in evaluating the extent of social, spatial and strategic interactions among economic agents.