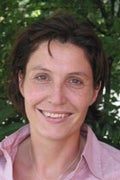 Fields:
Health Economics • Development Economics • Labor Economics
Current Research Interests: 
Investigating the impacts of conditional cash transfers on various child health and educational outcomes in Mexico, Nicaragua, and Yemen, determining the long-term effects of family planning and early child health interventions on cognitive development of older children and adolescents, using a randomized experiment in Yemen to test the unitary model of the household and to determine if expenditure patterns differ depending on if money in the hands of men versus women, exploring the effect of electification on poverty in Brazil.
Affiliations:
• Faculty Research Associate, Institute of Behavioral Science, Health and Society
Education:
PhD–University of California, Berkeley
MA–University of British Columbia 
BA– McGill University
PhD, University of California, Berkeley, 2005, is an associate professor with research interests in health, development, and environmental economics. She has worked as a consultant at the World Bank on development related research topics. Her current research includes investigating the impact of various government policies on health outcomes of the poor in Mexico and Nicaragua; the influence of decentralization in the allocation of public services in Mexico; the effect of managed care on birth outcomes of the Medicaid population in the United States; and environmental health issues.