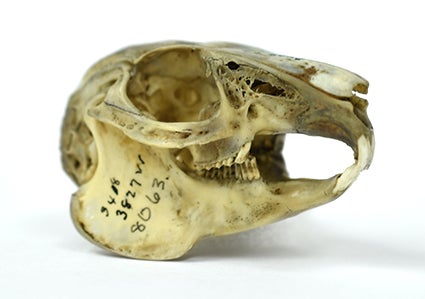 The Image Reproduction Policy of the Zoology Section, University of Colorado Museum of Natural History, pertains to original photography of collection objects, analog or digital, and derivative images made from existing transparencies, negatives, prints, and electronic media in the Zoology Collection. Reproduction, display, or distriubtion of Zoology images, whole or in part, is prohibited without explicit written permission from UCM.
With permission, photographs (analog, digital, and video formats) and scanned archive materials may be used, downloaded, reproduced, displayed, distributed, posted, or reprinted by persons affiliated with academic and/or non-profit organizations, for scholarly purposes only. In all cases of publication and public presentation, "With permission of the University of Colorado Museum of Natural History, Vertebrate Collections" must be cited, with reference to institutional acronym and catalog number when a specific specimen is indicated (e.g. UCM 12345).
Publication permission is given for one time use only.
Digital images used on the World Wide Web must be reproduced at 72 dpi or less.
Use Fees
No Intent to Publish: There is no use fee for an image that will not be published unless the unpublished use is a commercial event, such as broadcast or exhibition.  In which case, commercial publication fees apply.
Intent to Publish: There are fees for publishing original and duplicate images from the Zoology collections, depending on whether the publication is commercial or noncommercial. 
i)  Non-commercial use is usually academic/student research published by scholarly organizations.  In such cases, the use fee is waived, though the Zoology Section requests a complimentary copy of the publication that indicates complete information on its bibliographic citation (e.g. author name, journal name, volume and page numbers) for its reference library.
ii)  Commercial use includes publication, broadcast, and exhibition. The standard fee per published image per medium per use is $150.  This fee does not include reproduction costs or handling and shipping.
Permission to Photograph
Photographers permanently transfer copyright to all photographs produced to the University of Colorado Museum of Natural History. Use of photographs for any purpose other than those previously agreed upon in writing as well as their transfer or sale to a third party is in violation of the UCM Image Reproduction Policy agreement.
The University of Colorado Museum of Natural History will be provided one copy of the contact sheets or one digital copy of all exposures for its records.
The photographer assumes responsibility for any damage to museum collections or property that may occur during this photographic work. The photographer will compensate the University of Colorado Museum of Natural History for damage.  All conservation and security requirements of the Museum, as instructed by Museum staff, must be observed.
The photographer, publisher, and author will be jointly and separately responsible for all their obligations according to the Image Reproduction Policy agreement, and each will also guarantee the obligations of the others.
To submit an Image Reproduction or Permission to Photograph request, please email Emily Braker