The University of Colorado Museum of Natural History is located in the Henderson Building on the University of Colorado Boulder campus. Access to the museum will be impacted by the Hellems Renovation Project, effective through January 2025. Please see below for a map and additional information on access and parking during constructon.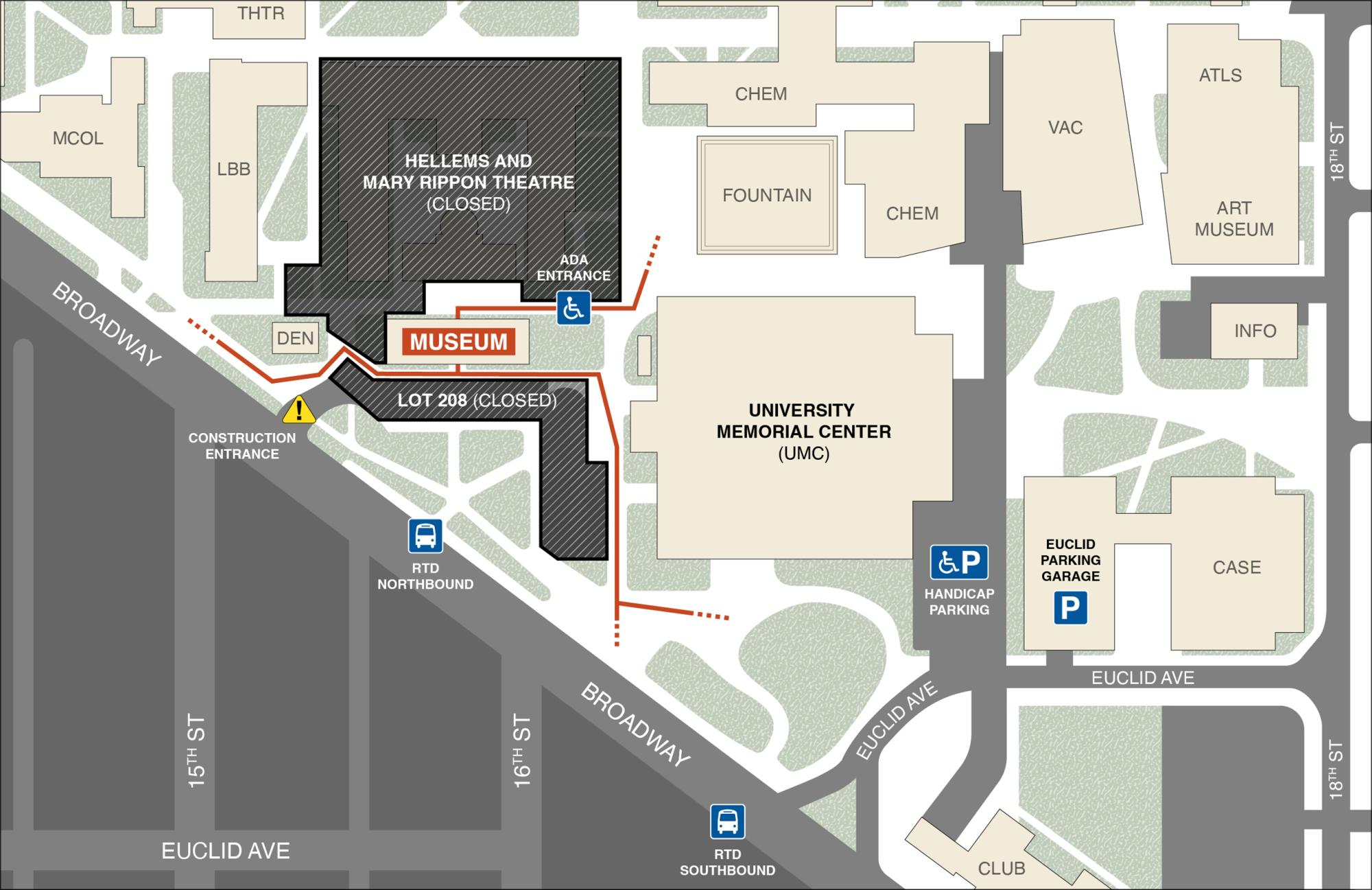 Download map (PDF)  Directions (Google)
---
Parking
On-campus parking
Visitor parking is conveniently located in the Euclid Parking Garage. Open 24/7, the Euclid Parking Garage is located between Broadway and 18th Street (east of the UMC) and is a "pay-by-plate" paystation lot. You will need to have your license plate number to pay at any of the paystations located at each pedestrian exit. (Tip: Take a photo of your vehicle's license plate on your cellphone and you'll always have it available for pay-by-plate parking payment). Paystations accept payment by credit card, coin and the Parkmobile app.
Off-campus parking
Visitors may park in the residential area west of Broadway. Parking in these areas is either two-hour or all-day free parking. Be sure to check posted signs for details. There are also 2- and 4-hour metered spaces on University Hill, west of Broadway and north of the Museum. There are two pedestrian underpasses visitors can use to proceed onto campus.  
---
Public Transportation
The Museum is conveniently located next to the Broadway and Euclid RTD bus stop (#12433). Visit the RTD trip planner for bus lines and schedules.
---
Accessibility
The closest public handicap parking is located on the east side of the University Memorial Center (UMC) on Euclid Avenue. These parking spaces are metered. A new ADA accessible ramp has been installed on the east side of Henderson Museum. Within the museum, an elevator is available for handicapped visitors to travel between floors.