The Department of History has moved from Hellems to Muenzinger. The main office is in Muenzinger D110.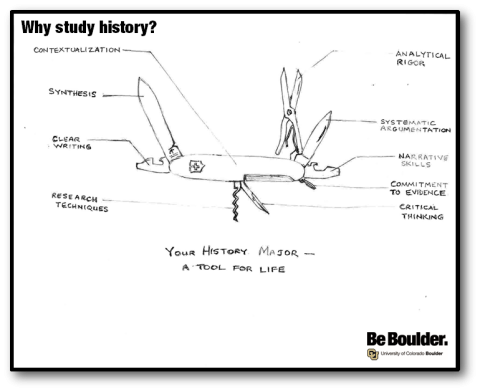 Artist Credit: Prof. Anderson produced this drawing for the History Teaching and Learning Project (HTLP). For more details about our work on history pedagogy, please see the HTLP section of this website. 
---
Historians analyze change over time, and they use archival and other primary-source evidence to build interpretations that explain change and put it into context. In seeking to understand historical subjects on their own terms, and by appreciating the diverse perspectives of past actors, students of history develop empathy even as they rigorously engage with the ethical dimensions of past human decisions and actions.
The CU Boulder History Department has an energetic group of excellent and award-winning faculty who specialize in premodern and modern history in regions across the globe, including China, Japan, India, the Middle East, Sub-Saharan Africa, Latin America, Europe, and the United States of America. Our faculty also pursue multiple historical methodologies and approaches, including cultural, diplomatic, demographic, economic, environmental, ethnic, gender, intellectual, legal, political, religious, social and transnational history. 
We encourage students with a passion for learning and an interest in the past to check out one of our many courses offered every semester. If you are interested in majoring or minoring in History, please visit our undergraduate advising page for more information.