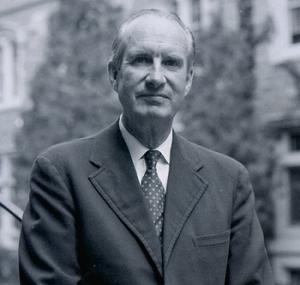 The late Dr. Robert G. Athearn (1914–1983) was a professor of Western History at the University of Colorado at Boulder from 1947 until his retirement in 1982. An extraordinarily productive scholar, his publications included Westward the Briton (1953), Union Pacific Country (1971) The Coloradans (1976), The Denver and Rio Grande Western Railroad: Rebel of the Rockies (1977), The Mythic West in Twentieth Century America (1986), and William Tecumseh Sherman and the Settlement of the West (reprint 1995).
Professor Athearn was one of the founders, as well as past president, of the Western History Association. Additionally, during his career held numerous positions on historical committees, academic societies, and editorial boards. His impact as a teacher was equally great. He instructed thousands of undergraduate students over the years, and trained a score of contemporary Western historians in the profession he loved. As part of his legacy, Professor Athearn endowed a lectureship in the History Department at the University of Colorado at Boulder to be held on topics in Western history. We continue to host the Athearn Lecture Series, and encourage you to join us at the next Athearn Lecture. 
31st Athearn Lecture
Dr. Claudio Saunt
"Unworthy Republic: The Dispossession of Native Americans and the Road to Indian Territory"
Thursday, April 7th, 2022
5:00 pm in Humanities Room 250
Claudio Saunt is Richard B. Russell Professor in American History and Co-Director of the Center for Virtual History at the University of Georgia. He is the author of four books, including West of the Revolution (2014), Black, White, and Indian (2005), and A New Order of Things (1999). His most recent book, Unworthy Republic (2020), was awarded the Bancroft Prize, the Robert F. Kennedy Book Award, and the Ridenhour Book Prize, and was a finalist for the National Book Award. He has developed several online projects, including the Invasion of America and, with Elizabeth Fenn, Pox Americana. In 2018, he received an NEH Humanities Collections and Reference Resources grant to produce an online, interactive time-lapse map of the African, Native, and European populations in North America between 1500 and 1800.
Reception to follow in the Humanities Living Room (HUMN 170)