Overview
The Anderson Language and Technology Center (ALTEC) is part of the University of Colorado Boulder. We are a service unit that supports the language learning community at the University and in the state of Colorado. Our offices and classrooms are located on the main Boulder campus on the south side of the Quad in the Hellems Arts and Sciences building. ALTEC has been making language learning increasingly interactive for nearly thirty years and serves as a model for other universities seeking to update their language programs for the twenty-first century. On our website, one can find language learning materials, videos of guest speakers, information about non-credit language classes, and much more. We welcome you to have a look around or, better yet, stop by the Center to talk with us in person. 
Mission
ALTEC's mission is to broaden and deepen cultural understanding through innovative approaches to language learning and teaching.
Vision
ALTEC's vision is to bring people together through advanced technologies and resources that propel inclusive, accessible and engaging language learning and teaching on campus and beyond. We achieve this by providing a wide range of services coupled with physical and virtual spaces where all can come to learn, grow and connect through languages. 
"Be" Statements
Be Multilingual. Be Adventurous. Be Unique.
History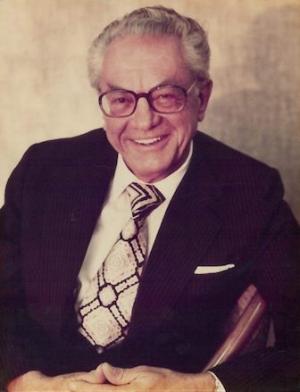 We have come far since our beginnings as a listening lab stocked with reel to reel tapes.
Terie Anderson Roubos and her husband Gary Roubos established ALTEC in 1989 to honor Terie's father, Garfield O. Anderson (pictured). The CU Language Laboratory received their donation along with matching funds from the College of Arts and Sciences. A renovation committee formed, which included the Vice Chancellor, the Language Lab Director (Marie Sheppard), representatives from the Language departments, and technical consultants. The committee brought forth a master plan to renovate and upgrade the lab, which opened in 1990 as the Anderson Language Technology Center. The purpose was to provide an interactive, high-tech approach to learning foreign languages and, in the words of Marie Sheppard, "transform the Labs from the sleepy, 60's-style facility they were to a showplace that ranks with finest foreign language technical facilities anywhere."
ALTEC's original mission was to "support the study of foreign languages and cultures on the UCB campus" through language resources and state-of-the-art facilities. ALTEC assumed control of the University's Language Lab, which has always been located in Hellems. Room 159, now called The HIVE (Hub for Innovation and Vibrant Expression) was initially an interactive videolab where students practiced foreign languages on computers. Hellems 145 began as a Mac Lab and its function remains the same. Room 148 was a studio where faculty could subtitle videos, produce original voice and video recordings, and work on other recording projects. Room 152 (the current PC Classroom) was the audio-visual lab and housed an extensive library of audio materials, foreign films, and books.