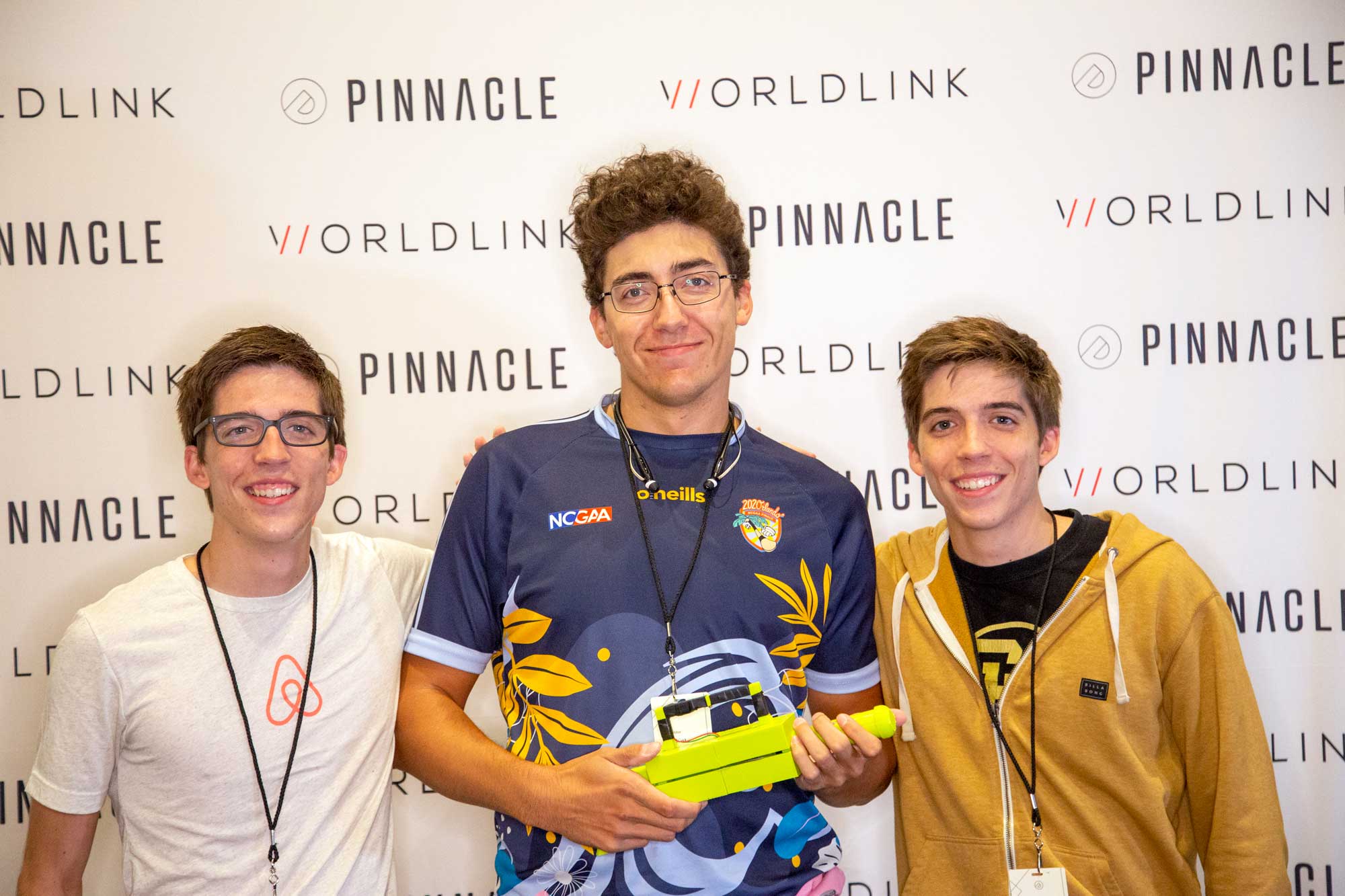 A team of three May 2021 CU Boulder College of Engineering graduates took second place at Pinnacle hackathon in Dallas, which ran September 17-19. Known as "The Olympics of Hackathons," the 36-hour, invitation-only competition pits the top-place finishers from 50 of the world's largest collegiate hackathons against each other.
All three team members graduated in May 2021: Mason C. Moran (center) and Colin Soguero (left), both earned degrees in creative technology and design from the ATLAS Institute, while Colin's brother, Luke (right) earned a bachelor's in computer science. Along with the prestige of ranking second in one of the country's most competitive hackathons, the team brought home $2,000.
Their project, ARmory, is an augmented reality (AR) game that incorporates a wireless, alternative 3D-printed controller* designed by the team. Players defend themselves against assailants that can approach from all sides. Depending on how it is held, the controller switches between three modes—a sword for hand-to-hand combat, a crossbow and a shield. Sensors in the controller linked to the Arduino connect to the AR headset via a wireless network. As players change their grip, the corresponding weapon is displayed in their field of vision. 
Moran, who returned to the ATLAS Institute this fall to begin work on a master's degree, said the team was delighted by how well they placed. "We all believed in our project, but it never registered that it was second-place quality work," Moran said. "When second place was announced, it was like living in a haze." 
The three previously participated in a series of hackathons. In March they won the university's annual 24-hour invention marathon, HackCU, with their project, ChessLens, an augmented reality application that helps chess players improve their game. The ChessLens team, which beat 23 other groups, won Nintendo Switch Lites and an all-expenses-paid trip to Pinnacle.
Moran said the team chose the ARmory project because it drew on their respective strengths: Moran's 3D design, fabrication and hardware skills; Colin Soguero's familiarity with programming for augmented reality; and Luke's networking and data processing prowess. Reflecting on his own undergraduate experience, Moran said "The CTD program's blend of tech and creative skills, including AR/VR opportunities, provides ideal skills for hackathons, creative problem solving and design challenges." 
Now an AR developer with the Future of Work Collaboratory, Colin Soguero was a member of the ATLAS Institute's ACME Lab as an undergraduate, serving as a research assistant in the AR Drum Circle project. Partly in recognition of these contributions, he was named one of ATLAS' 2021 Distinguished Undergraduates. Luke Soguero is now a software developer with Oracle.
The three have no plans to continue working together on the project as they go in different directions, although Moran admits "anything is possible."  
"It was a wild ride," said Moran. "Winning HackCU was a huge achievement for us, and our placement in Pinnacle further highlights our potential together."  
*The team's controller incorporates an Arduino Nano 33 IoT and a Magic Leap AR Headset. Additional technical details of the project may be viewed on Devpost.