Spring 2022 Psychology and Neuroscience Graduation Ceremony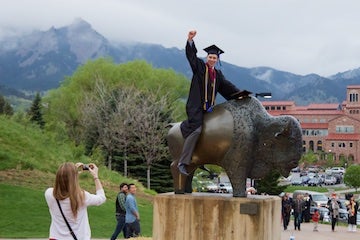 View a recording of the graduation livestream
Spring 2022 Graduation Program
The PSYC & NRSC Graduation Ceremony celebrates the imminent graduation of bachelor's students, master's students, and doctoral students. Graduates will be recognized individually by name and take the traditional walk across the stage to receive their diploma cover. 
Ceremony Details
Date: Thursday, May 5, 2022
Time: 6:00 p.m. MDT
Location: CU Events Center
RSVP: Graduates will receive an email with a link to RSVP. Tickets are NOT required for this event. 
Doors will open at 5:00 p.m. The Graduation Ceremony will last approximately 2 hours. At the conclusion of the event, please remain in your seat until all the graduates have been recognized and the platform party has exited the stage.
Dress
Degree candidates are required to wear a cap and gown. Information about purchasing academic regalia may be found at the CU Book Store.
Undergraduates wearing regalia should have their tassel on the right; all graduate students should wear their tassel on the left.
PhD candidates must be in academic regalia; please carry your hood, do not wear it.
For any questions, please contact Amy Zens (amelia.zens@colorado.edu or 303-492-5421).
Accommodations
The University of Colorado Boulder is committed to providing equal access to individuals with disabilities. If you or any of your guests requires special accommodations (wheelchairs, hearing-impaired translator, other reserved seating needs, etc.) please contact Amy Zens (email: amelia.zens@colorado.edu or phone: 303-492-5421) no later than Wednesday, April 27th. We will make all reasonable efforts to fulfill requests submitted after the deadline.
Questions?
Contact the Department of Psychology and Neuroscience at (303) 492-5421