Conference Chairs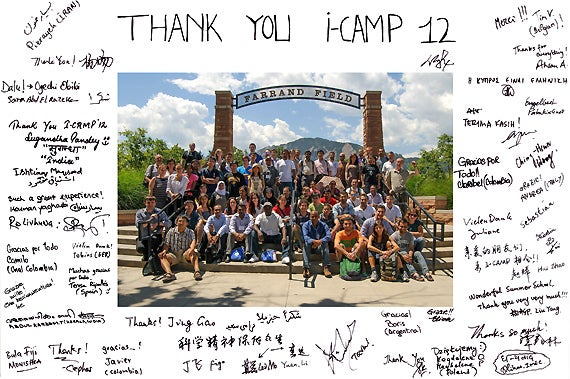 I-CAMP•12 Scientific Committee
Neal Armstrong, University of Arizona
Marc Baldo, Massachusetts Institute of Technology
Zhenan Bao, Stanford University
John Bowers, University of California at Santa Barbara
Daniel Dapkus, University of Southern California
Elena Galoppini, Rutgers University
Devens Gust, Arizona State University
Alan Heeger, University of California at Santa Barbara
Julia W. P. Hsu, University of Texas at Dallas
Valeria D. Kleiman, University of Florida
Victor Klimov, Los Alamos National Laboratory
Arthi Jayaraman, University of Colorado Boulder
Nathan Lewis, California Institute of Technology
Yueh-Lin (Lynn) Loo, Princeton University
Michael McGehee, Stanford University
Thomas Meyer, University of North Carolina Chapel Hill
Vidvuds Ozolins, University of California at Los Angeles
Thomas Russell, University of Massachusetts Amherst
Ifor Samuel, University of St. Andrews, Scotland
Rachel A. Segalman, University of California, Berkeley
Natalie Stingelin, Imperial College London
William Tumas, National Renewable Energy Laboratory
Michael Wasielewski, Northwestern University
James Yardley, Columbia University
Jie Zhang, Institute of Materials Research and Engineering, Singapore
Xiaoyang Zhu, University of Texas at Austin
NanoPV Workshop Organizing Committee
Jao van de Lagemaat, National Renewable Energy Laboratory and University of Colorado Boulder
Reuben Collins, Colorado School of Mines
Gordana Dukovic, University of Colorado Boulder
Art Nozik, National Renewable Energy Laboratory and University of Colorado Boulder
Mark Lusk, Colorado School of Mines
Logistics Committee
Diane Stults, Logistics Committee Chair & RASEI Associate Director for Business Development
Danielle Felix, Event Coordinator & Executive Assistant to the Director of RASEI
Cheryl Brazeau, RASEI Financial Sponsorship Coordinator
Margie Bopp, Administrative Support and RASEI Program Coordinator
General Information about the I-CAMP Summer School
The Inter-Continental Advanced Materials for Photonics (I-CAMP) Summer School will enable researchers working at the forefronts of materials science & photonics to discuss the emerging uses of light for control and fundamental study of matter and advances in the use of materials to control light. The I-CAMP School will provide education for young scientists working in materials science, optics, photonics, biophysics, nanoscience, and related fields. The goal is to prepare the participants for research at the frontiers of science and technology by providing an interdisciplinary expert training not easily available within the traditional system of graduate education and postdoctoral apprenticeship. The Summer School is primarily targeted at advanced undergraduates, graduate students, and postdoctoral fellows within the first three years after defending PhD, although those in different circumstances are considered too. In particular, we strongly encourage early-career professionals from Industry to participate in the I-CAMP school if the school topics match their interests/background. At each I-CAMP Summer School, there will be 50-100 students from a diverse range of scientific backgrounds and from different countries (with at least 50% of them coming from the USA institutions). To enhance discussion and further exchange of knowledge, there will be at least three poster sessions (one per week). Each participant will be invited to present a poster on his/her current research project. The School, sponsored by the International Institute for Complex Adaptive Matter, will meet annually in different locations in a variety of countries/continents Worldwide. The interested young scientists who cannot make it to the I-CAMP school may consider remote participation via webcast. The presentations will be webcast in real time and, in addition to the on-site audience; registered participants around the World will have an opportunity to ask questions. The I-CAMP school will bring together both prominent & junior scientists and will allow them to combine advanced education with learning about different cultures worldwide. Participation of students, postdoctoral fellows, and other early-career professionals is strongly encouraged. Up to 20 fellowships will be awarded to support travel of early-career scientists each year.
Download a Summer School Poster
Summer School Program
Organic Photovoltaics
Nanoscale Photovoltaics
Chemical, Macromolecular, and Nanostructure Synthesis
Hybrid and Nanocomposites Materials
Quantum Chemical Design and High Performance Computing
Morphology Control and Characterization
Charge Transport and Recombination Kinetics
Exciton Dynamics
Ultrafast Photophysics
Thermodynamics of Photovoltaic Devices
3rd Generation and Exotic Concepts
Plasmonics
Light Trapping and Optical Control
Nanoscale Characterization
Device Physics and Architecture
Photovoltaic Upscaling and Manufacturing
Solar Fuel Materials and Catalysts
Solar Fuel Systems Design
Artificial Photosynthesis
Biological Systems
Enzymatic and Bacterial Production of Biofuels
Economic Issues in Renewable Energy
Policy and Governance Issues in Renewable Energy
Societal Issues in Renewable Energy
I-CAMP•12 Tentative Schedule
July 16, Arrival, Registration and Welcome Reception
July 17, Scale Challenges in the Deployment of Renewable Energy Technologies
July 18 – July 22, Overview on Science and Technology of Solar Energy Conversion to Electricity and Fuels
July 23 – August 1, Organic Photovoltaics
August 2 – 8, Nano and Emerging Photovoltaics
August 8 – 11, NanoPV Workshop
Registration Fee
Student: $150; Professional: $300
I-CAMP Features and Events
Invited tutorial lectures and poster sessions
Classroom interaction using the iClicker technology
Video/audio and presentation archives;
Half-day tour of National Renewable Energy Laboratory (NREL)
International outreach forum
Travel fellowships available
Combination of advanced education with tourism and learning about diverse cultures
Travel support for minority students and faculty at minority serving institutions
Informal receptions and fun
Poster competition and awards
For website related questions, please contact Bohdan Senyuk or Paul Ackerman.