Venue
I-CAMP•2012 Summer School will be held in Boulder (Colorado, United States). Visit the interactive Campus Map or I-CAMP•2012 Boulder GoogleMaps or download PDF Campus Map for venue details and directions.
Lodging
I-CAMP•12 participants have the option of either arranging their own living accommodations or staying in the Sewall Hall located on the main Campus of the University of Colorado. Rooms are available with either single or double occupancy; an attempt will be made to pair up participants with compatible characteristics (i.e., smoking versus non-smoking). Participants receiving I-CAMP•12 participation fellowships will be provided with lodging in the Sewall Hall as part of the fellowship. The dorm reservations are made for the period of July 16 (check in date) to August 11 (check out date); participants interested in extending their stay to dates before or after this period need to make their own lodging arrangements accordingly. Meals will be served at the Center for Community (C4C).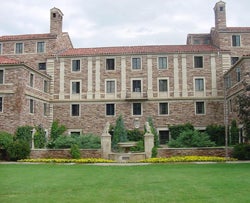 Participants will be provided with Dormitory Lodging (including two meals per day, breakfast and lunch) for $1,350. The payment will be accepted on site upon arrival.
Additional lodging possibilities
Summer time is the prime tourist season in Colorado. It is recommended that you secure accommodations from one of the fine hotels or motels in Boulder well in advance. Web links to the hotels in Boulder as well as their contact information can be found at http://www.bouldercoloradousa.com/visitor/hotels/.
Another very good economy lodging option is the Boulder International Hostel, which is located in the close vicinity to the CU-Boulder campus. To make a reservation, please call (303) 442-0522 or contact them at http://boulderinternationalhostel.com/contact.
Insurance
The organizers of the I-CAMP•12 Summer School do not provide medical or any other types of insurance to participants. It is the responsibility of participants to assure that they have an appropriate type of insurance for the entire duration of this scientific meeting.
Boulder and Surroundings
Colorado is home to some of the most beautiful mountains in the country and we hope you enjoy your visit. Boulder enjoys a mild climate, with approximately 300 sunny days per year and some of the most stunning mountain scenery in the United States. The elevation of Boulder is approximately one mile above sea level. There are innumerable opportunities for outdoor recreation in Boulder and 12-13 thousand foot peaks less than 20 miles away from Boulder. There are also many cultural activities in Boulder, with cafes and bookstores at every corner. The University of Colorado at Boulder has a beautiful campus, at an altitude of 5400 feet, located at the foot of the Rocky Mountains. The weather during July-August is usually very pleasant, with a low humidity; the average high temperature is in the 80's (Fahrenheit) while the average low temperature is in the 50's. Boulder and its surroundings offer a large spectrum of first rate outdoor recreational activities, which include hiking, mountain biking, running, rock and ice climbing, white water rafting, fishing, bird watching, outdoor concerts, and numerous local microbreweries. Chautauqua Park, an area right in front of the Flatirons rock formations (the image appearing in most photos of Boulder), south-west of campus, is a must-visit park with a huge selection of trailheads, some leading to Green and Bear mountains. Another attraction, closer to campus is the Boulder Creek Path (just north, downhill from the Duane Physics building), which runs along the Boulder Creek from the foothills, several miles west of town, to the prairie, several miles east. The Pearl Street Pedestrian Mall, located in downtown Boulder, approximately 0.5 miles north of campus, is also a nice place to visit and to hang out in the evenings. The Rocky Mountain National Park is approximately 50 miles north-west of Boulder. For more detailed information about Boulder such as maps, weather, recreation see http://www.colorado.edu/visit/ . For more information about the University of Colorado at Boulder, visit http://www.colorado.edu/.
Miscellaneous Information
Boulder is located at an elevation of 5,430 feet (1,655 m), a significant change for those used to lower elevations. You may notice shortness of breath and an increased heart rate, especially when being physically active. The best ways to minimize the effects of altitude are to drink lots of water and to avoid overexertion. Excess consumption of alcohol exacerbates the effects of high altitude. Ultraviolet rays from the sun are intense at high altitude. It is recommended that you use an effective sunblock (protection factor of 15 or more) when out of doors, and wear sunglasses with UV protection, even on cloudy or overcast days.
In case of emergencies, call 911 for police, fire department, and ambulance.
It is customary to tip 15% to restaurant wait-staff and to bartenders. If you have a large party, usually a group of 8 or more, gratuities may automatically be included in the bill. Ask if you are unsure. Of course, this is discretionary, and you should leave as much as you feel comfortable.
Boulder's Mountain Time is 7 hours behind Greenwich Mean Time; 8 am in Colorado is 3 pm in London.