Colorado has seen an increase in fentanyl overdoses over the past year. Here are five things everyone should know about fentanyl.
Fentanyl is a synthetic opioid that is 50 to 100 times more potent than heroin or morphine.
Drug traffickers often mix fentanyl into other drugs because it is cheap to manufacture and a small amount goes a long way.
Fentanyl is often mixed into other substances or marketed as substances other than fentanyl, such as prescription medications. This can be dangerous because individuals often consume fentanyl without knowing it or meaning to, which can result in accidental overdoses or death.
Fentanyl is often added to:
Powders (like cocaine)
Capsules
Pressed pills meant to look like prescription medications (like Xanax or Oxy/M30s)
… and much more!
Experts consider 2 mg of fentanyl to be lethal, but many counterfeit pills contain up to 5 mg (more than twice the lethal dose). This amount is incredibly small. Check out the image to the side for scale to see what 2 mg of fentanyl looks like. 
 Important: While these drugs have tested positive for fentanyl by public health agencies, it's important to remember that any pill or drug sold on the internet, on the streets or by a person you know could contain a potentially lethal dose of fentanyl.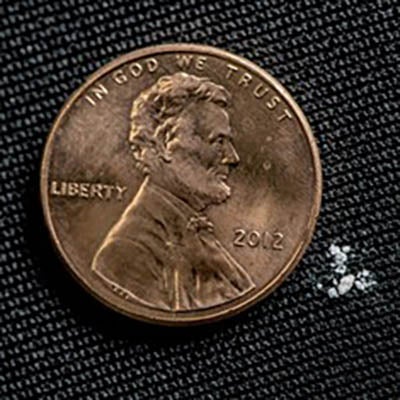 Fentanyl may be more common than you think.
Colorado authorities have seen a large influx of fentanyl over the past year and are expecting to see an increase in overdoses in the coming months. In fact, the CDC announced that fentanyl is now the leading cause of death among adults 18 to 45 in the United States. 
Additionally, according to the U.S. Drug Enforcement Administration (DEA), nearly half of all counterfeit pills tested contained a lethal dose of fentanyl. This figure is particularly alarming because it can be difficult to distinguish genuine pills from fake or counterfeit versions. Check out the examples below to see how counterfeit pills can be designed to look just like genuine pharmaceuticals.
Source: Drug Enforcement Agency (DEA)
Oxycodone
Street names include: 30s, M30s, oxy, kickers, 40s, 512s, blues 
Source: Drug Enforcement Agency (DEA)
Xanax
Street names include: bars, benzos, bricks, ladders, sticks, xanies, zanbars, z-bars
Source: Drug Enforcement Agency (DEA)
Amphetamine
Prescribed as: Adderall, Ritalin, Concerta, Dexedrine, Focalin, Metadate and Methylin.
While fentanyl can be lethal, there are things you can do to help protect yourself and your friends. Here are some tips and strategies you can use to prevent accidental overdoses.
 Please note: Due to the unpredictability of fentanyl, there is no foolproof way to eliminate the risk of overdose. 
---
Know what you're getting into
Assume that any pill or drug not purchased directly from a pharmacy could contain fentanyl. This includes illicit drugs (cocaine, heroin, meth, etc.) as well as prescription medications (Xanax, Oxycodone, etc.).
---
Have naloxone on hand
Carry naloxone and make sure you know how to use it. 
Naloxone is an FDA-approved medication that can be used to temporarily reverse opioid overdoses. Naloxone is typically administered through a nasal spray, but it also comes in an injectable from. This medication help can temporarily reverse opioid overdoses, but it can wear off quickly or require additional doses for fentanyl.
All CU Boulder students, staff and faculty can pick up free naloxone from Health Promotion on the third floor of Wardenburg Health Center.
---
Be prepared to call for help
Look for these signs:
Pinpoint (small) pupils
Shallow or no breathing
Blue or grayish lips/fingernails
No response to stimulus (i.e. being pinched)
Gurgling/heavy wheezing or snoring sound
If signs of an overdose are present:
Ask if the person is alright and look for a response
Make a fist, and use your knuckles to apply downward pressure to their sternum (do not hit them); this is a test to see if they respond to the pain stimulus
If they do not respond:
Call 911
Administer naloxone if available
Start CPR
Naloxone will not harm someone who is not overdosing—when in doubt use it!
---
Sobriety can reduce tolerance 
If you've used fentanyl or other substances in the past and have recently experienced a period of sobriety, your tolerance for the drug has likely decreased. If you choose to use again, be mindful of potential changes in drug potency and start with a smaller dose than you might have used in the past. These strategies can help you avoid an accidental overdose or other unwanted experiences.